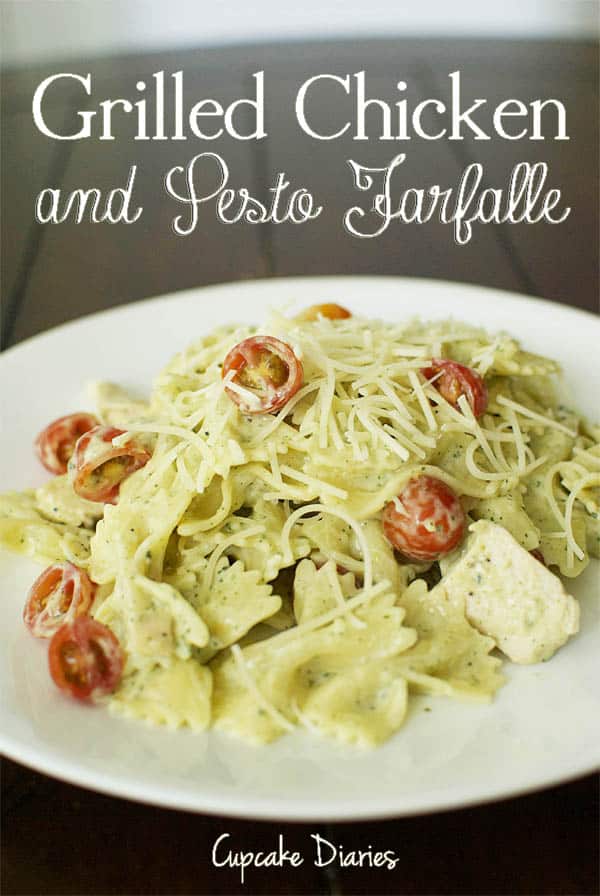 I worked at Johnny Carino's, a country Italian restaurant, for almost 10 years and it was awesome! Not only did I might new people all the time, I also learned a lot about Italian cuisine. One of my favorite dishes when I first started working there was chicken fettuccine with pesto. I would eat chicken fettuccine no other way. The day the company no longer carried pesto I wanted to cry. My beloved pesto was gone! Such a sad day. But because the menu at Johnny Carino's is so amazing, it wasn't difficult to more forward and find new favorites.
Last week I wanted to make a pasta dish with some pesto and farfalle (bowtie) pasta. We used our grill for the first time this year and made a really yummy dish. My husband and I looked like mad scientists in the kitchen, throwing this much of that ingredient in, tasting in, then adding this or that. It was fun coming up with a concoction together! This pasta dish was loved by all and I can't wait to make it again. I love pesto!!
Grilled Chicken and Pesto Farfalle
makes 4-6 servings
1 packet Knorr brand pesto, prepared (makes 1 cup) – Or you can use 1 cup of any other already made pesto.
2 small chicken breasts, thawed
salt and pepper
1 – 12 oz box farfalle (bowtie pasta)
1 Tbsp butter
1 tsp minced garlic
2 Tbsp flour
1/2 c. milk
3/4 c. half and half
1 c. Parmesan cheese, plus extra for garnish
1 1/2 – 2 c. grape tomatoes, sliced in half
Salt and pepper the chicken breasts then cook on the grill on medium-high heat for 5 minutes on each side. Set aside and let rest before slicing.
Cook the pasta in a pot of boiling water for the amount of time instructed on the box. While the pasta is cooking, slice the grilled chicken (about 1 inch long and 1/4 inch thick.) When the pasta is done cooking, drain and place in a large bowl.
Whisk together the flour and milk in a bowl and set aside. Melt the butter over medium heat in a medium saucepan. Then add the minced garlic to the pan and let it cook for about a minute, stirring it around in the butter. Add the milk and flour mixture to the pan and whisk. Then stir in the prepared pesto. Slowly add the half and half to the pan. Cook for 7-8 minutes or until thick, stirring frequently. Add 1 cup of Parmesan cheese and stir till the cheese is melted.
Pour the sauce over the pasta and stir together. Then add the chicken. Add the tomatoes and gently fold them into the pasta. Serve hot and sprinkle with Parmesan cheese to garnish. Enjoy!