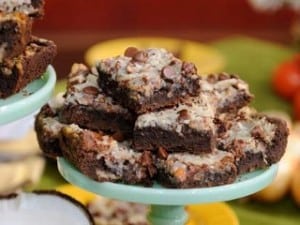 My mom LOVES German Chocolate Cake. Since I can remember, we've had German Chocolate Cake every year for her birthday dessert. Even though it was her birthday, she always made sure the cake was frosted partially with regular chocolate frosting and the rest with that wonderfully delicious coconut frosting that pairs so nicely with that cake. Most of the kids didn't like it so she made sure everyone liked the cake in one way or another. I was one of those that loved it so I got to sample the leftover frosting with my mom. That's a great mom right there! She's a very selfless lady. I thought of her when I saw this recipe for German Chocolate Cake Bars. One of the things I really like about these bars is that you don't end up having an entire cake to eat if not everyone likes them. Let's be honest. This kind of cake isn't exactly the most popular of all the cake kids. These bars make it easier to share with neighbors if you happen to come home from a party with a whole bunch of leftovers! But for those of use who happen to like German Chocolate Cake…these bars are heaven! They're so gooey and chewy with all of the German Chocolate Cakeyness I know and love so well. Mmmm!!
This picture is from Good Morning American when Paula came on and made these bars. Yumm!


German Chocolate Cake Bars
Paula Deen
Crust:
1 box devil's food cake mix
1/2 c. (1 stick) unsalted butter, melted
1 egg
Filling:
1 (14 oz) can sweetened condensed milk
1 tsp. vanilla extract
1 egg
1 c. chopped pecans
1 c. shredded coconut
1/2 c. milk chocolate chips
Preheat oven to 350 degrees. Grease a 9×13 pan well with butter or nonstick cooking spray.
In a medium bowl, mix together the cake mix, butter, and egg. Press the mixture into the bottom of the pan. Bake for 7 minutes and remove from the oven.
In another medium bowl, mix together the sweetened condensed milk, vanilla extract, egg, pecans, and coconut. Pour evenly over the warm crust, sprinkle evenly with chocolate chips, and bake for 25 to 30 minutes until the top is a light golden brown. Remove from the oven and cool completely before cutting.