Perfectly chewy and sweet macarons that taste like fruity cereal! You're going to love how easy these are to make, thanks to Dana's Bakery.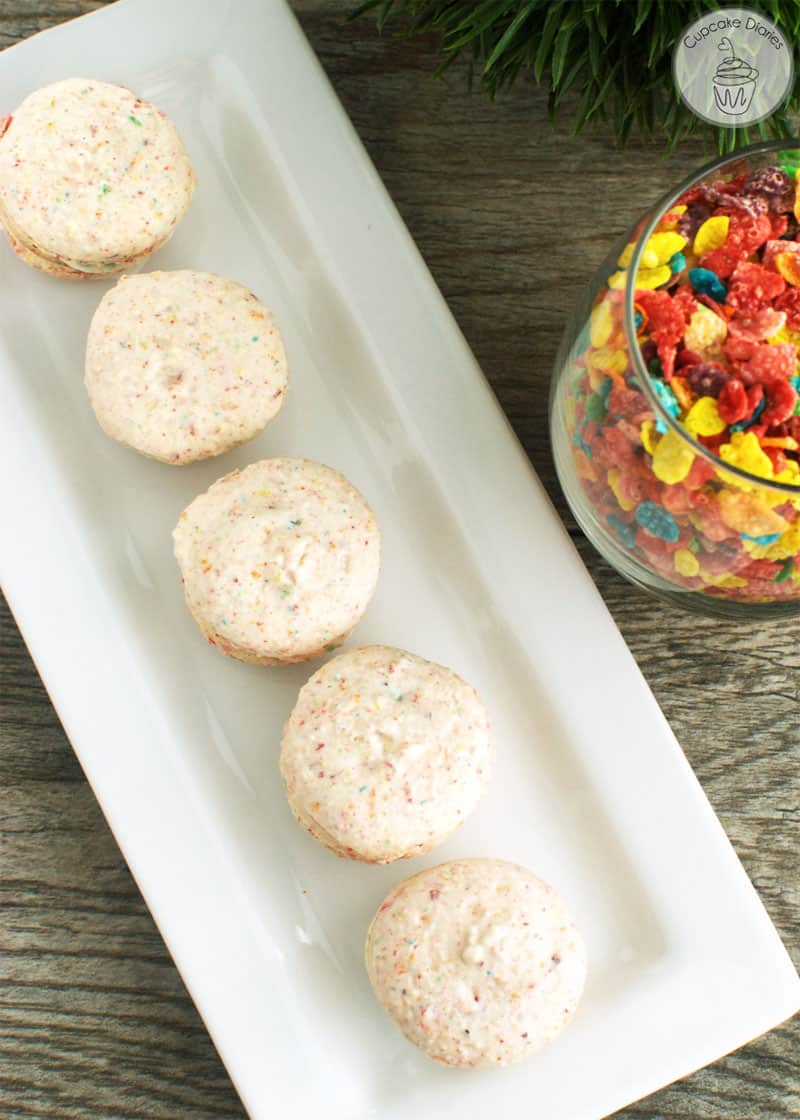 There's no doubt that macarons are hard to make. They're the hardest thing I've ever attempted. Keyword being "attempted". I've successfully made a batch from scratch one time. And it wasn't easy! Even then they weren't as chewy and nice as I would have liked them to be.
Recently I was introduced to Dana's Bakery and I was blown away by everything about it. Dana's Bakery is a macaron shop in New Jersey that sells traditional French macarons in unique flavors. And all macarons are kosher and gluten free. You can read more about Dana's Bakery here. Dana sent me a box of a dozen assorted flavors of macarons and they were absolutely divine. I posted a picture of my box on Instagram for all to drool over! Flavors included Cookie Dough, Peanut Butter and Jelly, and Red Velvet, just to name a few!
I'm here to tell you today that you too can have Dana's Bakery macarons sent right to your door! You don't even need to leave your house for decadent macarons. It's a beautiful thing. The shop includes a wide variety of ways to purchase these divine treats. And take a look at that flavor list! So many fun flavors, including flavors of the month and seasonal flavors. When ordering, you can pick and choose your flavors in a custom box. Dana's Bakery also does custom flavors and special collaborations. Perfect for celebrations, events, gifts, and corporate outings!
I told Dana that the Fruity Cereal flavor looked amazing so when she told me she was going to send me a kit to make some of my own at home, I was over the moon! This kit allowed me to not only make a delicious macaron flavor from Dana's Bakery right in my own kitchen, it also allowed me to EASILY make them.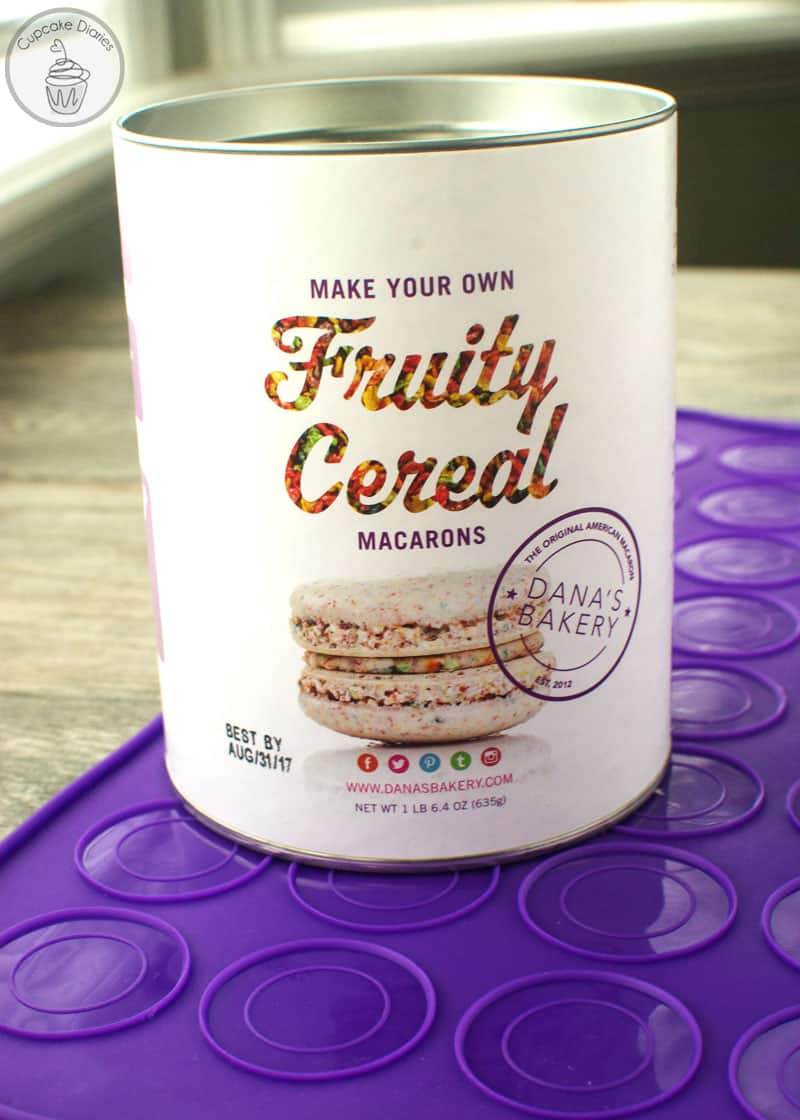 This kit comes with two mix packets, two piping bags, one piping tip, and a recipe for filling. I used one of Dana's pretty purple silicone mac mats and it worked great. The different circle sizes help you pipe the batter into perfect circles and then fill them with just the right amount of filling.
Check out that simple and lovely label on the back of the kit. The top section tells you everything you get in the kit and the middle section tells you the few things you need to have on your own. For this recipe I only needed some egg whites, a few ingredients to make the filling, a baking sheet, an electric mixer, and a spatula. How great is that? All other ingredients are in that kit.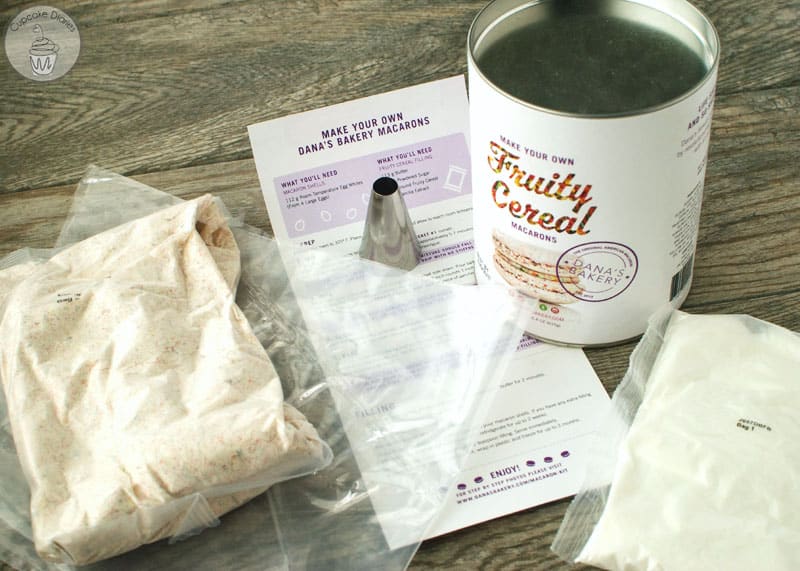 Follow the step-by-step instructions to prepare the batter for piping onto the mat. It was seriously SO much easier than making macarons from scratch!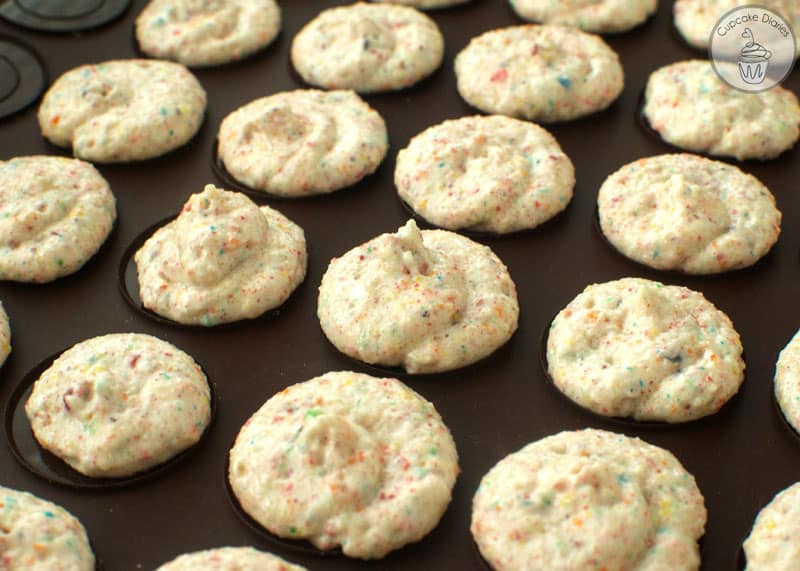 I put the macarons in the oven before realizing I didn't take a picture of the piping step. I have another mat so I piped a few more macarons to show this example. After piping the batter onto the mat you're going to slam the cookie sheet onto the countertop six or seven times to get rid of air bubbles. As you can see, a couple of mine had little lumps on the top. I took a butter knife and smoothed those tops out so they wouldn't bake with lumps. These little guys bake as they look on the mat before going into the oven so you'll want to make sure the batter is nice and smooth.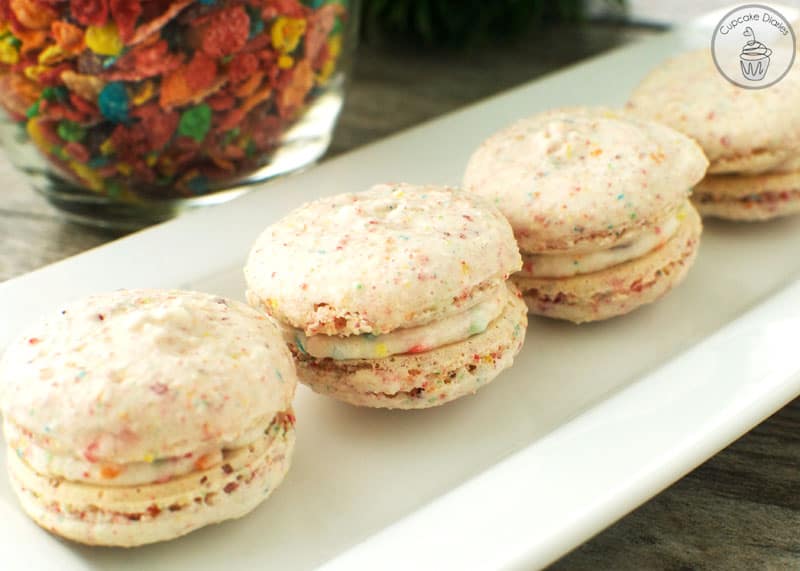 By the time you finishing baking the macarons and filling them with the filling (that's even easier than making frosting), you'll end up with 20 perfectly chewy macarons.
I can't express how worth it this kit is if you want to make macarons! If you want homemade macarons but struggle with macarons like I do, get one of the kits from Dana's Bakery. You're going to love how good they turn out! I served them to a group of neighbors and they couldn't get over them. They asked where I got them (because they were delicious and because of the unique flavor) and they couldn't believe it when I said they came from a kit. Kit flavors include Fruit Cereal, Red Velvet, and Chocolate Molten.
This is officially my go-to way to make and order macarons! I'm so excited to try more flavors.
You can also join the Mac of the Month Club and and treat yourself to a monthly subscription of a Dana's Bakery variety pack. It includes all of the original flavors plus the flavor of the month. So fun! You can take a look at the different subscription options here.
Get a 10% off code when you sign up for the Dana's Bakery email list! Go to the homepage and scroll to the bottom where you can sign up.
What unique Dana's Bakery flavor are you excited to try?