This isn't exactly food or kitchen related, but it's a subject near and dear to my heart. I've had two children, and both went straight to the Neonatal Intensive Care Unit (NICU) right after birth. Last June my son, Carter, was born 8 weeks early and spent the first 6 weeks of his life in the NICU before being able to come home. With our oldest, he didn't stay in the NICU over any holidays. Carter was in the NICU for both Father's Day and the Fourth of July.
It was hard having Carter in the NICU, but having him there on a holiday was especially hard. The NICU staff made Father's Day extra special for the dads by giving them the cutest little poem attached to a paper tie, with the footprint of their sweet little baby on the bottom. It was a simple and the most perfect gift my husband could receive that Father's Day. He didn't get to go home with his baby that day, but that tie with the poem and little footprint was pretty darn special to take home and cherish.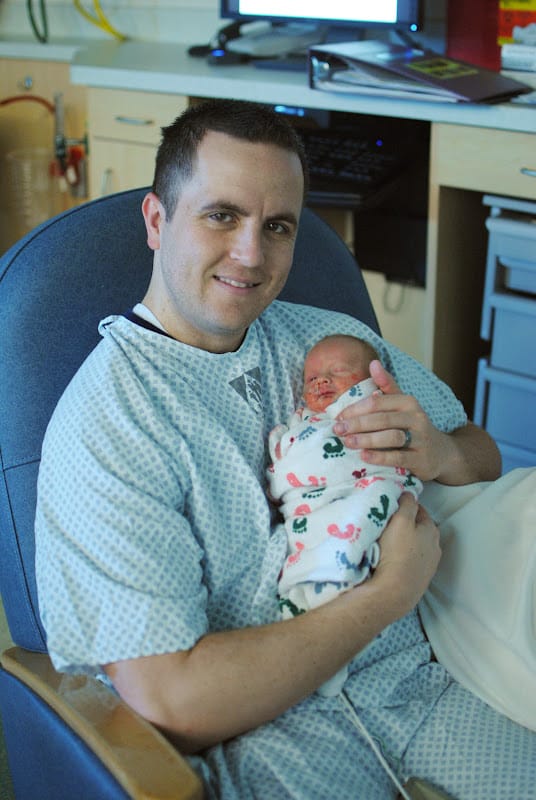 My husband with 2-week-old Carter on Father's Day
I wanted to pass this poem on to anyone who will experience having a baby in the NICU on Father's Day this year. And I appreciate the NICU staff at our hospital for introducing it to us so we can share it with others.
Here's what to do:
NICU moms or close family allowed in the NICU…
Click
HERE
to download the poem and print it off on card stock. Bring it to the NICU and ask one of the nurses to stamp the baby's footprint in the blank space at the bottom of the tie.
(For some reason the preview of the poem is showing up a little weird every now and then and only shows part of the poem. But it will download just fine!)
If you know someone with a baby in the NICU, this would be a great idea to tell the mom to give to her husband on Father's Day! They'll both love it. We've loved having ours and can now look at it and be reminded of those tender memories in the NICU with Carter.