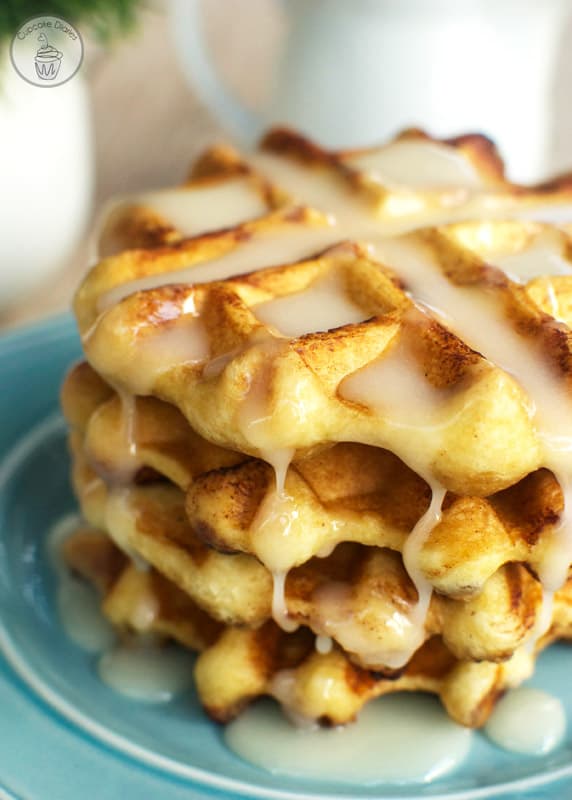 September is National Breakfast Month! I've always been such a huge fan of waffles. My dad makes the best ones I've ever had. You need a glass of milk with those bad boys. Holidays wouldn't be the same without his famous waffles for breakfast.
You're going to love how easy these Cinnamon Roll Waffles are to make. I mean, it's kind of ridiculous.
So easy I forgot to take a picture to show you. Oops! Just keep on scrolling to the recipe and you'll see!
Easy Cinnamon Roll Waffles
Servings:
8
cinnamon roll waffles
Ingredients
1

can Pillsbury Grands! Cinnamon Rolls
Instructions
Place one cinnamon roll on a heated and greased waffle iron. Close and cook for 30 seconds. (Time will vary depending on the heat of the waffle iron.)

Remove lid from the included icing pack and heat for 30 seconds in the microwave. Pour over waffles. Enjoy!
I hope you enjoy these waffles! Here are 28 other breakfast recipes for you to enjoy.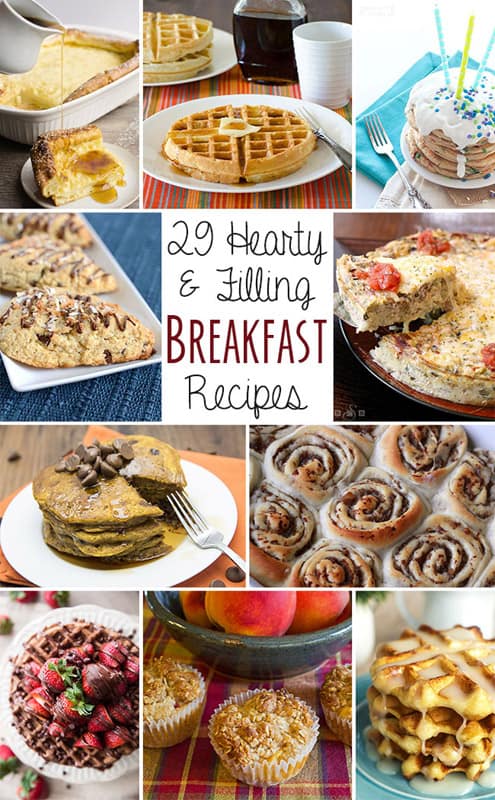 German Pancakes from Ashlee Marie
Weekday Waffles from Real Mom Kitchen
Lightened Up Birthday Cake Pancakes from Happy Food Healthy Life
Coconut Chocolate Chips Scones from Creations by Kara
Southwest Breakfast Casserole from Butter with a Side of Bread
Pumpkin Chocolate Chip Pancakes from Like Mother Like Daughter
Sausage Rolls Recipe from Summer Scraps
Whole Wheat Dark Chocolate Covered Strawberry Waffles from Tried and Tasty
Peach and Oatmeal Muffins from Jamie Cooks It Up!
Easy Cinnamon Roll Waffles from Cupcake Diaries
Corn Fritters from Ashlee Marie
Quick Breakfast Burrito from Real Mom Kitchen
Churro Waffles from Cupcake Diaries
Breakfast Hash from Creations by Kara
Strawberry Cream Cheese Butterhorn Danishes from Butter with a Side of Bread
Whole Wheat Apple Pie Waffles from Tried and Tasty
Blueberry Cream Cheese Pastries from Summer Scraps
Make Ahead Breakfast Sandwiches from Jamie Cooks It Up!
Coconut French Toast from Like Mother Like Daughter
Whole Wheat Greek Yogurt Pancakes from Happy Food Healthy Life
Raspberry Sweet Rolls from Cupcake Diaries
Lemon Scones from Ashlee Marie
Breakfast Corn Dogs from Real Mom Kitchen
Sour Cream Banana Coffee Cake from Creations by Kara
15-Minute Maple Bars from Butter with a Side of Bread
Nuts About Berries Oatmeal from Tried and Tasty
Fresh Peach Syrup from Jamie Cooks It Up!
Pumpkin Cinnamon Rolls from Like Mother Like Daughter
Chocolate-Banana-Raspberry Breakfast Drink from Cupcake Diaries