I first want to say how awesome the last couple of days have been here at Cupcake Diaries! I have had a LOT of e-mails and comments from people all over the world, and I've just loved hearing from you all! It's amazing how one little mention on Our Best Bites could turn into something so cool for me. I'm impressed by how many people visit their blog everyday! You go, girls! They're quite popular, those two. Anyway, I'd just like to say thank you to all of you for making the last couple of days so memorable. And for all the new followers, welcome to Cupcake Diaries! I'm so happy to have you!
And if you haven't already, head on over here to enter to win an autographed copy of the Our Best Bites cookbook!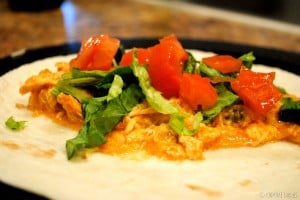 Just when you think it's time for a break from the busyness of school and extracurricular activities, summer hits. And then starts the t-ball and pitching machine games and practices, soccer, swimming lessons, piano lessons, etc. It's just as crazy as when they were in school!
It's days like these where you really just want dinner to be waiting for you in the crockpot. Thank goodness for crockpots.
You can't go wrong with the creamy goodness of these Creamy Chicken Tacos in the crockpot! I love how there's just the right amount of sauce and they're not too spicy. Enough of the chit chat, let's get to it!
Thanks to Jamie Cooks it Up! for this delicious and easy recipe!
Ingredients (for 6 servings)
5 frozen chicken breasts (Yes!! Makes it that much easier.)

2 cans cream of chicken soup

2 1/2 Tbsp. taco seasoning

1 Tbsp. maple syrup (Gives it just the right amount of sweetness. Yum!)

1 tsp. lime juice, fresh or bottled
Serve over tortilla chips or in a tortilla shell. Top with cheese, tomatoes, lettuce, avocado, etc. I also want to add that even though it says this makes 6 servings, I was able to get even more out of it. It all depends on how much meat you want to put in the tortilla shell.
Directions
Spray the inside of your crockpot with cooking spray and place the frozen chicken breasts inside.

In a small mixing bowl stir together all other ingredients but the butter and sour cream.

Pour the sauce over the top of the chicken. Cover and cook on high for 4 hours, or on low for 7 to 8 hours.

Take the chicken out of the crockpot and onto a plate. Shred it up with a fork and throw it back in.

Add the butter and sour cream; stir till nice and mixed in. Cook the chicken for another 30 minutes to an hour so the meat can get even more of that delicious flavored soaked up.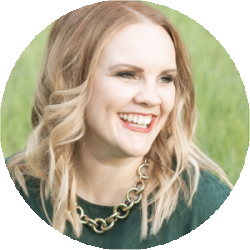 Alli is the food blogger and photographer behind Cupcake Diaries. Nestled in Northern Utah with her four young boys, hubby, and a full pantry, she loves baking all kinds of treats as well as quick and easy meals for her family. What started out as sharing a few recipes with family members here and there soon turned into a full-functioning recipe blog with readers from all around the world! Alli is a full-time mom who enjoys music, holidays, and spending time with her family.