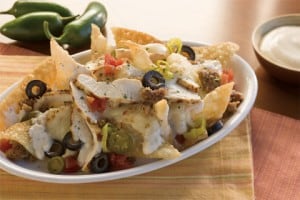 I worked at Carino's Italian for almost 10 years. Ten years! I started work there when I was 17 and I loved it. It was 2001 and back then the restaurant was called Johnny Carino's. I was a hostess and a table tender (busser), then as I got older I became a server and bartender. I made some of my closest friends while working there and had a lot of great experiences. I think about my Carino's friends often and how the restaurant kept us all close. We had a blast working together and then spending so much time together outside of work. I miss those days and those people! (Andiamo!)
I'm sure my Carino's friends can agree with me when I say the Italian Nachos is one of the most asked for dishes on the menu. Not only is it the most popular appetizer, but a lot of people order them for their lunch or dinner. I can see myself standing at the table as someone orders the Italian Nachos. My automatic response was always, "Chicken, sausage, or combination?"
Carino's Executive Chef is Chef Peit and he has a blog on the Carino's website. As part of that blog, he's been generous enough to share the build for Italian Nachos with the public. And since he's shared it on his blog, I wanted to pass it right on to you! These nachos are seriously awesome. If you've tried them before, you know what I'm talking about. And if these are new to you, you have to try them! They're the best!
Carino's Italian Nachos
Carinos.com
7 oz wonton wrappers (You can find these at any grocery store in the produce section. They'll be by the egg roll wrappers and tofu.)
canola oil
1/3 c. ground Italian sausage, cooked
1/3 c. sliced chicken, cooked
2 c. mozzarella cheese, divided
1/2 c. fresh diced tomatoes
1/4 c. black olives, sliced
1/4 c. pepperoncini peppers, sliced
1/4 c. jalapeno peppers, sliced
heated alfredo sauce
Alfredo Sauce
This is NOT the original Carino's Alfredo Sauce recipe. However, it tastes pretty darn close to it! It comes from Texas Housewife. This link includes other Carino's copycat recipes!
1 quart heavy cream
1 c. parmesan cheese
1 Tbsp black pepper
1/4 c. whole milk
Saute heavy cream, milk, and pepper to a consistent boil. Remove the cream mixture from the heat and fold in the parmesan cheese. Set aside to use on nachos or store in the fridge for later use.
Build for Nachos
Begin by preparing the wontons. Unwrap them and peel them apart. Then cut them into triangles, 3 inches long and 2 inches tall. Size will vary depending on what you buy. Heat the oil up to 350 degrees in a fryer or a deep pan. Drop the cut wrappers into the hot oil for about 60 seconds until the wrappers float and become crispy. Make sure the wrappers aren't sticking together when they go into the oil. Once the wrappers are fried, they become the chips. Remove from the oil and place on a paper towel to dry.
Place pasta chips in a mound on a baking sheet tray. Top the chips with jalapenos, pepperoncinis, tomatoes, olives, chicken, and sausage. Top with mozzarella cheese. (Top with desired amount of cheese. You don't have to use the full 2 cups.)
Bake in the oven at 350 degrees until the cheese has turned a light golden brown. Be careful not to burn the chips! Remove from the oven and top with hot alfredo sauce. Enjoy!!