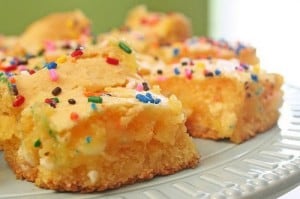 Last night for family home evening I wanted to make a treat, but I didn't want to make something that I usually make. I went over to faithful Pinterest and scrolled through the many treats on my Bars and Brownies board. I ran into these beauties and kept my fingers crossed that I had all of the ingredients for them. Sure enough I did! All 5 ingredients. It was exciting, I have to admit. I love it when I don't have to go to the store for ingredients and they're all just happily sitting in my pantry.
These blondies were really simple to make and the boys loved them. They would make a great birthday dessert, as well as a yummy Valentine's Day treat with Valentine's sprinkles. You could really turn these guys into any kind of holiday bar with the sprinkles. However, the sprinkles are optional and you don't have to put them on. I almost didn't, but the colors were fun and Brycen loved it. Fun dessert!
Cake Batter Blondies
recipe and above image via Two Twenty One
1 yellow cake mix
1 egg
1/4 c. oil, vegetable or canola
1/2 c. milk
3/4 c. white chocolate chips
1 – 2 Tbsp sprinkles (optional)
Directions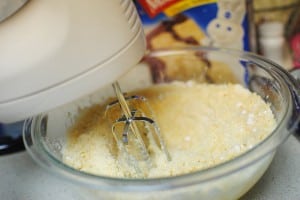 Combine cake mix, egg, and oil in a mixing bowl.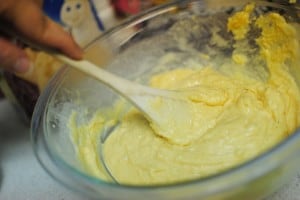 Slowly add the milk to the mixture. You'll want to start using a spoon here so the batter doesn't get too thin. You want it to remain as dense as possible, adding the milk a little at a time.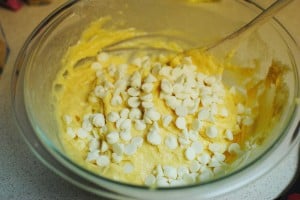 Finally, mix in all of those lovely chocolate chips.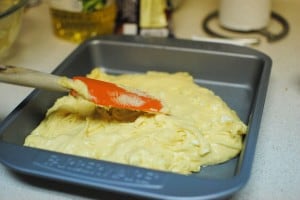 Spread the batter into a
greased
9×9 baking pan. Bake for 30 minutes at 350 degrees or until the edges begin to turn brown. (In my oven 25 minutes was plenty!) Add the sprinkles (if desired) while the bars are still hot.