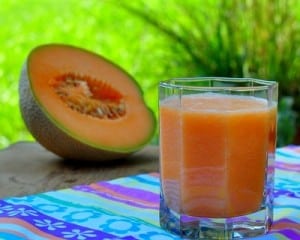 We had a Mother's Day dinner at Tyson's parents' house yesterday afternoon. It was full of good food and good company as usual. As the different dishes were being passed around the table my eyes locked on a very colorful bowl. It was full of cut up strawberries, watermelon, and cantaloupe. And I was SOOOO excited to see it! Fresh fruit means summer is almost here. Everything tasted so sweet. It was so good.
I've mentioned before that we are big time smoothie makers at our house. Yesterday's dinner made me want to make a cantaloupe smoothie for breakfast. If you like cantaloupe you will LOVE this smoothie. I can picture making this smoothie during the summer and enjoying it while reading a book on the lawn. But for now I'll just make them on these rainy days and enjoy them in the comfort of my warm house in my sweats. Summer, please come soon!
Ingredients
2 c. cantaloupe, chopped
juice of half a lime
3 Tbsp. sugar
1/2 c. water
1 c. ice
Blend everything together, pour in a glass, and enjoy!