Yes, college friends and roommates. This is THE recipe.
When I was a college freshman I received a little plate of cookies from my visiting teachers. They were so good, but I wasn't able to get the recipe from them. I was, however, told by one of the girls that there was a box of vanilla pudding in them. The secret of the amazing flavor for sure! So I went to work and came up with a recipe that has been totally awesome. I made these cookies all the time for a lot of friends, and I've been told often how much they miss those cookies. My roommates also ate a lot of these cookies. One of them had a baking stone that I used for the cookies before getting one of my own.
For a long time I was hesitant to give out this recipe. But I'm really not sure why! This recipe should have been shared with the world long ago. These cookies are so yummy.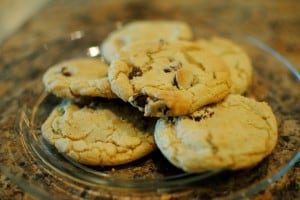 In your KitchenAid bowl or a similar-sized bowl combine with a wooden spoon:
1 c. butter or margarine, melted

(2 cubes)

2 eggs
1 c. sugar
1 c. brown sugar
1 tsp vanilla
1 tsp salt
1 tsp baking soda
1 c. semisweet chocolate chips

(Or mix it up! Sometimes I do 1/2 c. butterscotch, 1/2 c. semisweet. Or you can use white or milk…the possibilities are endless!)
Then add
1 large box vanilla instant pudding
2 3/4 c. flour
Bake 8-9 minutes at 375 degrees on a greased cookie sheet or ungreased baking stone. (I highly recommend baking cookies on stoneware. They bake a lot more evenly. If you only have a pizza stone, use that! That's what I do and it works great.)