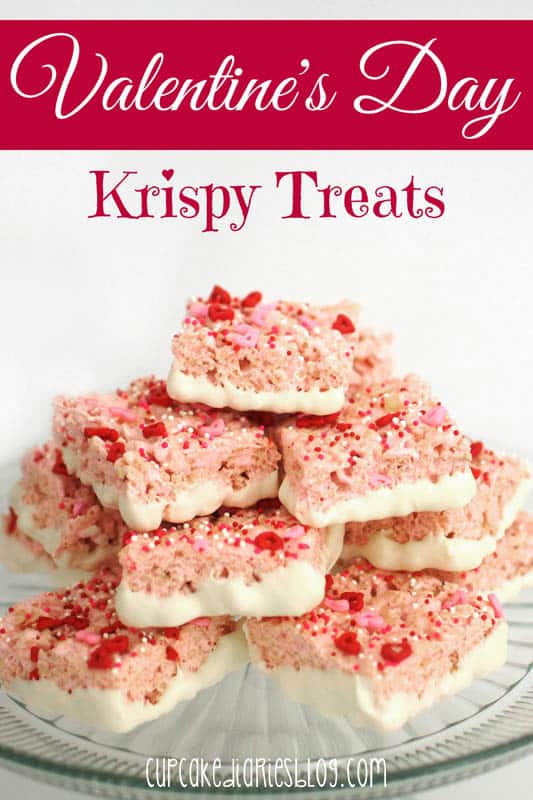 I can't even express how much I love these krispy treats!! If you've been following along for the last year you've seen all kinds of krispy treats come out of my kitchen for different holidays. These ones are extra special because, not only are they pink, they have a hint of strawberry. YUUUUM!!
And where does all the pink and strawberry happiness come from?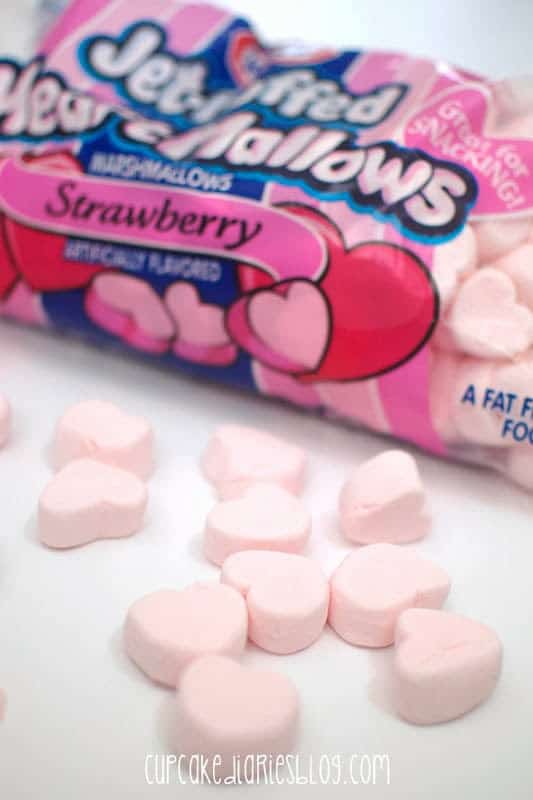 Strawberry-flavored heart marshmallows. LOVE! These little babies are what make the amazing pink color with the equally amazing strawberry flavor in these krispy treats. They're so good to eat by themselves as a snack, too!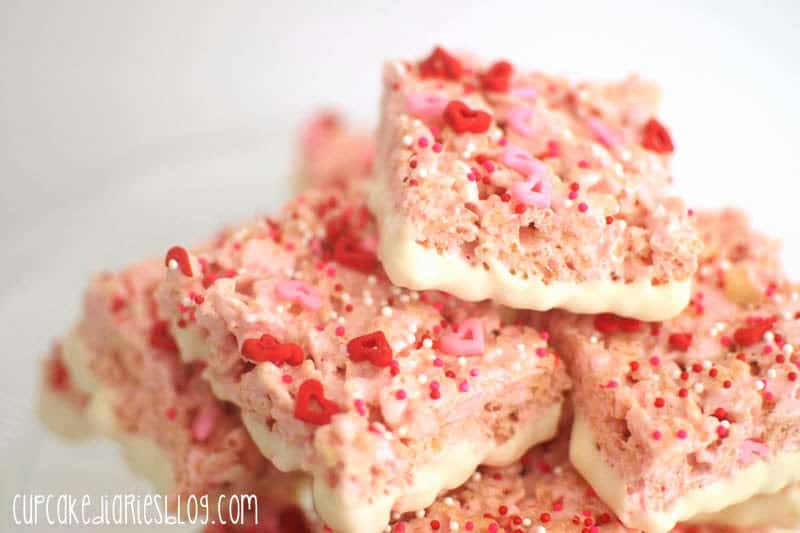 As with all my other krispy treats, these are super easy to make and are so so so tasty! They're perfect for visiting teaching treats, school party treats, or just to have around to scarf at home!
Valentine's Day Krispy Treats
Ingredients
6 c. Rice Krispies cereal
1 bag Kraft strawberry heart marshmallows
4 Tbsp butter, plus extra to butter pan
1 bag white chocolate chips
Valentine's Day sprinkles
Instructions
Butter the bottom of a 9×13 pan. Melt 4 Tbsp butter completely and put it in a large, microwavable mixing bowl. Throw the marshmallows in over the butter and stir them around to coat in the butter.
Microwave for 30 seconds, stir, then microwave for another 30 seconds and stir. The marshmallows should be melted by now but if not, place them in the microwave for a few more seconds until they're nice and melted.
Pour the Rice Krispies in the bowl and mix well with the marshmallow. Put the mixture into the 9×13 pan and wet down your hand with water to press the mixture evenly in the the pan. Add the sprinkles to the top of the treats. Cover and cool in the fridge for about an hour.
Cut into squares and place on wax paper. Melt the white chocolate at 30 second intervals, stirring after each 30 seconds. Dip the bottom third to half of each treat into the chocolate and place upside down on the wax paper to cool.
http://www.cupcakediariesblog.com/2014/01/valentines-day-krispy-treats.html