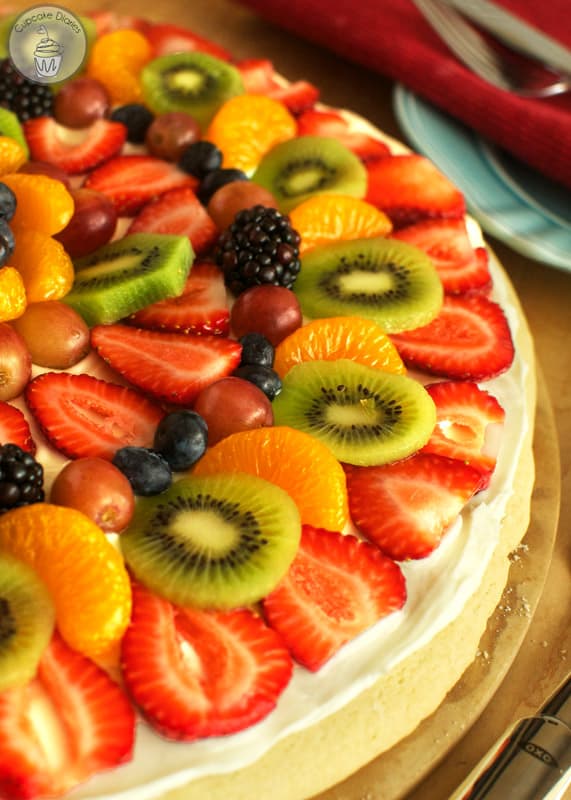 Today is my little baby's original due date! My baby who is now almost 2 months old was due to be born today and it just blows my mind to think about how early he was. We sure are lucky parents! He's just the sweetest little guy and we feel so blessed.
Yesterday it hit me that summer is almost over. It's almost August, for crying out loud! It seems like summer is just starting for us because half of our summer was spent in the Neonatal Intensive Care Unit with our baby. Two weeks ago today we busted out of there and started celebrating life and summertime!
With summer comes oodles and oodles of yummy fruit and I LOVE fresh fruit in the summer, as I've mentioned a bazillion times before. (Spell check didn't just tell me that "bazillion" was spelled wrong so apparently that really is a real word…?) I love me a good fruit salad in the summer. Or juicing a whole bunch of random fruits together for a yummy beverage.
Fruit Pizza is one of my favorite treats, and especially so in the summer when the fruit is ripe and delicious. I love that this tastes like a decadent dessert but it has so fewer calories with all of the delicious fruit on top. Whenever I see this dessert at a party it's gone in seconds. People just can't get enough! There are a lot of different versions of this dessert. This one is awesome when you want to make it but don't have time to make it from scratch. Easy and fun! I can't wait to make this again soon.