I am a member of the Collective Bias ® Social Fabric ® Community. This shop has been compensated as part of a social shopper insights study for Collective Bias and their client.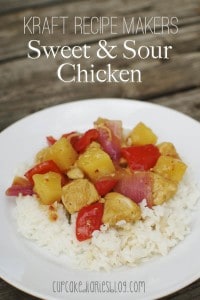 Most of my days I feel super prepared when I actually know what I'm making for dinner. I get through my busy day, then I get dinner ready for when my husband comes home. It feels great!
Last week I had my busiest day yet in my mommyhood. I thought I was going to lose my mind! There was TONS going on that day. That morning I had pulled chicken out of the freezer to thaw and was planning on making a specific meal. By the time I got finished running around like a maniac going here to there, I realized there was going to be no time to get this meal done.
Then I decided to try the
Kraft Recipe Makers
Sweet and Sour Chicken meal kit I had in the pantry. The only things left I needed to do to start getting dinner cooked was cut up the chicken, a pepper, and an onion, and start cooking rice. I was so relieved!! I placed the rice in the rice maker and went to work cutting everything up. Five minutes later I was ready to cook dinner. And I was so thrilled when I realized dinner would be done TOO soon and I needed to wait a little bit before I started cooking. It was glorious! At that point I opened up a diet Pepsi and sat on the couch to catch up on Ellen. It was simply wonderful.
I love how little ingredients are needed with Kraft Recipe Makers. I bought the meal kit, then all I needed extra was the chicken, rice, an onion, and a pepper. It was great!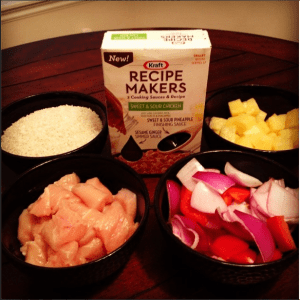 My ingredients all prepped and ready to go!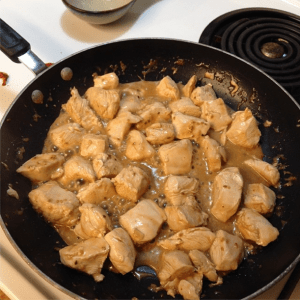 I put the chicken pieces in a large saute pan and added half the simmer sauce. Then I let the chicken cook. I could have stopped right here because of the smell alone! It was amazing!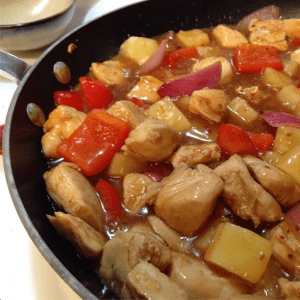 After the chicken was cooked I added the peppers, onions, and the rest of the simmer sauce. Then I left the peppers and onions cook for a few minutes. The finishing sauce and pineapple came next and brought everything together nicely. Yuuum!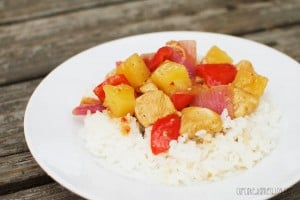 This pretty chicken and veggie combo went nicely with white rice. What a tasty dinner!
1 (8oz) can pineapple chunks, drained
1 small red onion, coarsely chopped
1 red pepper, coarsely chopped
1 1/2 lb. boneless skinless chicken breasts, cut into bite-size pieces
1 pkg Kraft Recipe Makers Sweet & Sour Chicken
1 1/2 c. long grain white rice, uncooked
Cook rice as directed on package, omitting salt.
Meanwhile, stir-fry chicken in half of Simmer Sauce in large skillet until done.
Add vegetables and remaining simmer sauce to skillet; stir-fry 2 to 4 minutes or until vegetables are crisp tender.
Stir in Finishing Sauce and pineapple; stir fry 1 to 2 minutes or until heated through. Serve over rice.