Happy Halloween!!
Such a great day. My little man, Brycen, is sporting a Winnie the Pooh outfit tonight.
He did his first trunk-or-treat on Friday night and had a blast.
I hope you are all safe and enjoy your day!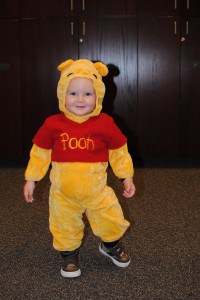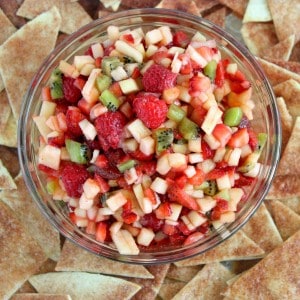 I know it's a little late to be posting a fruit-based dish. However, for some (depending on the area) the fruit is still pretty good. You can say this recipe is one last hoorah for fruit! And this salsa is WAY too good not to share. So whether you're still making fruit salads or counting down the days till summer comes and watermelon tastes good again, hold onto this recipe! The salsa is very refreshing and tastes oh so good with those cinnamon chips.
Fruit Salsa with Cinnamon Chips
All Recipes
image via The Girl Who Ate Everything
Fruit Salsa Recipe
2 kiwis, peeled and diced
2 red apples, peeled, cored, and diced
8 oz. raspberries
1 (16 oz) carton strawberries, diced
2 Tbsp. sugar (more or less to taste)
1 Tbsp. brown sugar (more or less to taste)
3 Tbsp fruit preserves, any flavor
Cinnamon Chips Recipe
10 (1o inch) flour tortillas
melted butter or butter flavored cooking spray
1 c. sugar
2 Tbsp. cinnamon
Directions
In a large bowl, thoroughly mix kiwis, apples, raspberries, strawberries, both sugars, and fruit preserves. Cover and chill in the refrigerator for at least 15 minutes.
Preheat the oven to 350 degrees. Coat one side of each flour tortilla with melted butter or butter flavored cooking spray. Combine the cinnamon and sugar for the chips and sprinkle the tortillas with the combination. Cut the tortillas into wedges and arrange in a single layer on a large baking sheet. If you're using cooking spray for these, spray them again with it.
Bake for 8 to 10 minutes. Repeat with remaining tortilla wedges. Allow to cool for 15 minutes. Serve with the chilled fruit mixture.
*This salsa is also good with cinnamon graham crackers or cinnamon pita chips! Be sure to serve it the same day you make it or the fruit gets too juicy and messy.