This is a Sponsored post written by me on behalf of P.F. Chang's. All opinions are 100% mine.
P.F. Chang's has a new winter seasonal menu! Just in time for Chinese New Year and Valentine's Day, P.F. Chang's in introducing its latest seasonal menu at locations nationwide. Here's a look at the new menu:
• Orange Ginger Beet Salad—Sliced red and gold beets mixed with fresh oranges and tossed with honey-ginger dressing, finished with crumbled goat cheese, candied walnuts and daikon sprouts.
• Shanghai Waldorf Salad—Fresh chopped kale, endive, radicchio, crisp apples, grapes, celery, grape tomatoes and candied walnuts tossed in a light miso-lime vinaigrette.
• Chili Shrimp Bao—Asian-inspired "sliders." Warm, pillowy bao buns filled with Bibb lettuce, chili-marinated shrimp, pickled daikon, carrots and cucumber topped with tamarind-chili sauce.
• Firecracker Chicken—Savory and spicy hoisin-glazed chicken breast, wok-fired with pineapple, Chinese broccoli, Asian mushrooms, Fresno peppers and dried chilies.
• Red Wine and Pepper Braised Beef—Red wine and black pepper sauce wok-tossed with marinated flank steak, sliced potatoes, broccolini, Napa cabbage, grape tomatoes and Fresno peppers.
• Miso Glazed Salmon—Broiled and served with grilled baby bok choy and cool julienne daikon radish in a warm savory broth.
That Orange Ginger Beet Salad is calling my name! But I have to say, it took me a few minutes to decide. Everything on this new seasonal menu looks soooo good! That Miso Glazed Salmon also looks delicious.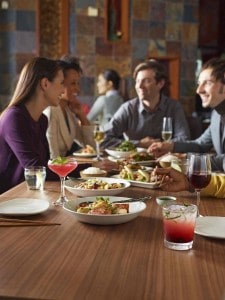 Yep. I want some of that salmon.
One of my favorite parts of dinner is the dessert that follows! There are some new dessert items on the new seasonal menu and I want a bite of each one!
• Chocolate Raspberry Wontons—Handmade, crispy wontons with a creamy chocolate-raspberry filling, dusted with powdered sugar, served with chocolate and raspberry sauces, fresh raspberries and mint.
• Sweet Vanilla Cream Wontons—Handmade, warm and crispy wontons filled with vanilla cream cheese, dusted with powdered sugar, served with vanilla and raspberry sauces and fresh mint.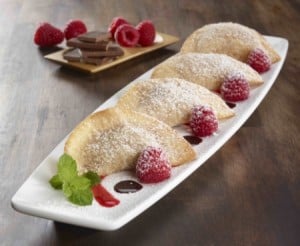 Doesn't this Chocolate Raspberry Wontons dessert look amazing??
And two new beverages are on the menu:
• Crimson Spritzer—Plymouth Gin and Luxardo Cherry Liqueur with marasca cherries, fresh lime juice and muddled kaffir lime leaves, topped with Mumm Napa Brut.
• Red Goose Martini—Grey Goose Vodka shaken with POM Wonderful pomegranate juice, Thai basil leaves, fresh ginger and lime juice.
To see more pictures of these amazing new menu items and to learn more about P.F. Chang's, follow this Winter Seasonal Menu link! Which dish are you most excited to try?
And this just in…For a limited time, visit pfchangs.com/winter to receive an offer of $10 off a $40 purchase. Awesome deal! Now you can experience the new menu items at an even cheaper price.
Follow P.F. Chang's on Twitter and Pinterest and never miss out on new promotions!