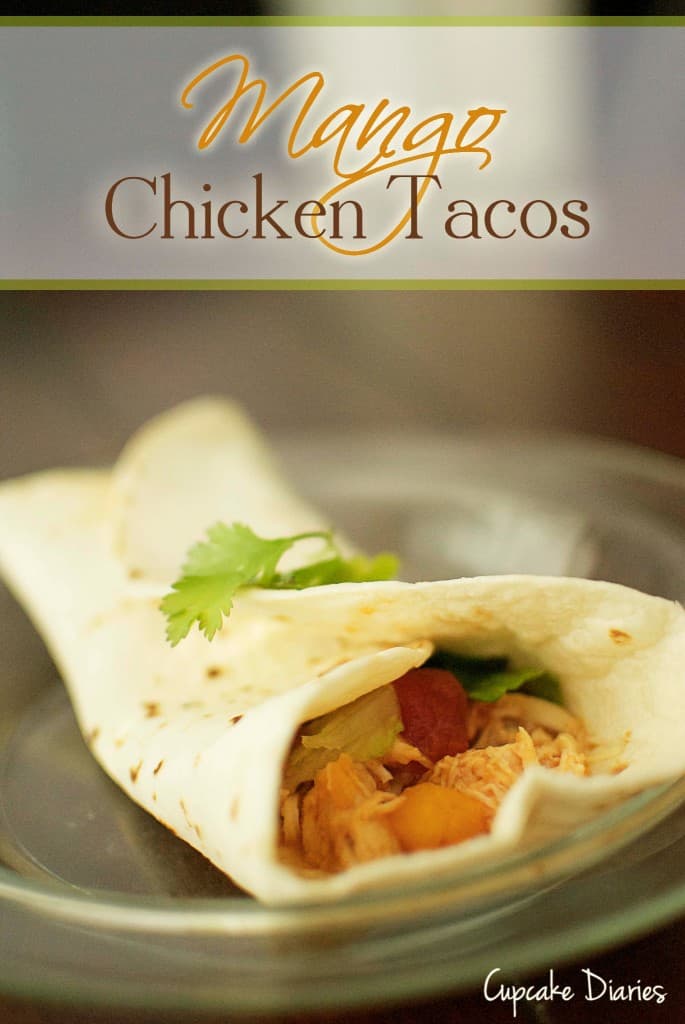 While making last week's menu plan, I found myself stumped. I decided to go through my fridge and see what I had lying around to make a meal. I found a brand new container of mango salsa, chicken, and a whole bunch of taco ingredients. Sometimes the same old tacos get old, so I decided to put a twist on it. And to make things even better, I cooked it in the crock pot. Another easy dinner that everyone loved. Winner winner, another easy chicken dinner!
2 boneless skinless chicken breasts
1 1/2 c. mango salsa, plus extra for serving
doll

o

p of sour cream
medium flour tortillas
Mexican blend or colby jack cheese, shredded
chopped lettuce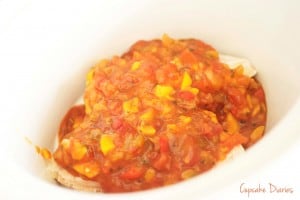 Place the chicken in the crock pot. Pour 1 1/2 c. mango salsa over the chicken. Cook on low for 4 1/2 hours, shred the chicken inside the crock pot, then add a dollop of sour cream. Allow the chicken to sit for about 15 minutes more before serving. Mix together and serve in the flour tortillas with additional toppings. I like to add a little more mango salsa on top of the lettuce for a little extra flavor!
Did you know: If you spray the crock pot with nonstick cooking spray before putting ingredients in it makes cleaning a whole lot easier!
Linking: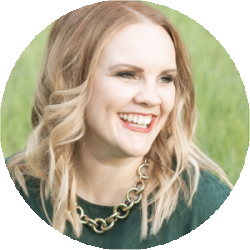 Alli is the food blogger and photographer behind Cupcake Diaries. Nestled in Northern Utah with her three young boys, hubby, and a full pantry, she loves baking all kinds of treats as well as quick and easy meals for her family. She also loves throwing parties and sharing the details on her blog. What started out as sharing a few recipes with family members here and there soon turned into a full-functioning recipe blog with readers from all around the world. Alli is a full-time mom and piano teacher who enjoys music, holidays, and spending time with her family.