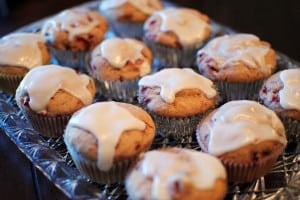 The fondest childhood muffin-making memories I have involve my siblings and I and a small box of Jiffy muffin mix. You know the kind: the small blue box with the picture of the blueberry muffin, and the mix makes like six muffins. They're around 50 cents a box these days. My mom would let us make these muffins every now and then. We would run downstairs and grab a box out of food storage then my brother would take charge. He is two years older than me and was always as wise as big brothers came in the 80's/early 90's. Especially when he wanted to play barber shop and he cut my beautiful blonde pig tail off my five-year-old head. But that's another story.
We'd get the batter made for the blueberry muffins then he would take over spooning the batter out into the six-count muffin tin. However, we never actually made six muffins because he always wanted to eat the batter. There were the kids who liked to lick the beater after helping Mom make cookies, then there was my brother: the batter eater. While the other five muffins baked, he sat up to the counter top with a spoon and the last muffin worth of batter. I haven't been able to make a box of those Jiffy blueberry muffins without a huge grin, thinking back on those very memorable muffin days as a kid. And if I ask my sister-in-law, I'm betting my brother is still a fan of that batter.
The other day I was thinking about this childhood memory and felt like making some muffins. I did a little online research and came across this recipe for Strawberry Lemon Muffins. I had all the ingredients and the recipe looked super yummy so I went for it. These muffins are really good warm, but taste even better by the next day. They're a great recipe to make ahead. But hey, good luck keeping them around for that day! They're tasty!
Strawberry Lemon Muffins
Jamie Cooks it Up!
makes 17 muffins (She posted that they make 17 and this recipe seriously made exactly 17 muffins.)
2 1/2 c. flour
3/4 c. sugar
2 tsp. baking powder
1/4 tsp. baking soda
1/4 tsp. salt
zest and juice of 1 lemon
1 large egg, beaten
3/4 c. buttermilk
2/3 c. canola oil
1 tsp. vanilla
2 c. fresh strawberries, chopped
Glaze:
1 c. powdered sugar
1 Tbsp. fresh lemon juice
1 Tbsp. milk
dash of salt