Thanks to everyone who enetered the giveaway! Everybody talked about really great food they like to eat during the holidays. Such great ideas for the perfect time of year!
The winner for the giveaway is:
Ashlee Charles
Congratulations, Ashlee! Since I know where you live I will just be dropping off your winnings to your house. 🙂
…
And now, here is a super simple and delicious recipe for homemade bread!
Have you ever been told by someone that a recipe is really really easy and anyone can do it? Then you totally screw it up? That just happened to me about a week ago! It was my great-aunt's french bread recipe and it turned out like river rock.
However,
this bread recipe really is simple! This is the recipe I use the most and it turns out great all the time. You're sure to get a great loaf of bread from this recipe!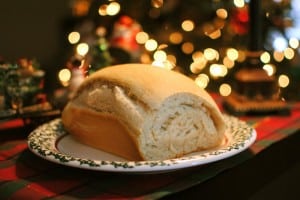 from the kitchen of
Ingredients
1 c. warm water
1 Tbsp or packet of active instant dry yeast
2 Tbsp sugar
2 Tbsp oil
1 tsp salt
2 1/2 c. flour
Directions (aka what I do step by step)
Get your cup of warm water and put it right into the bowl you're going to mix the bread dough in. Sprinkle the yeast over the water.

Stir in the sugar, oil, salt, and one cup of the flour. Mix well. (If using a KitchenAid, use your wire beater attachment.)

Stir in the remaining flour using the hook beater. (If for some reason you feel like the dough is still too sticky, add a little more. Two and a half cups of flour always works perfectly for me.) Let the dough rest in the bowl for a few minutes, then put a little flour on the countertop and knead the dough for 5 to 10 minutes.

Shape the dough into a loaf and put into a large and greased loaf pan. (I like to grease it with butter to give the bread extra flavor. A simple way to do that is to take a paper towel and run it through soft butter. Then rub it all over the pan.)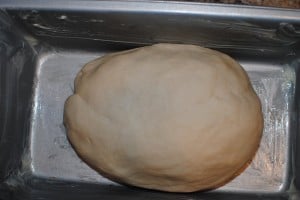 5. Let the dough rise until double in size (about 45 minutes). Cover it with a towel to avoid drying.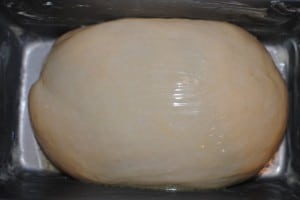 Melt a little butter and brush it over the bread for a little shine and extra flavor (optional but totally delicious.)
Bake at 350 degrees for 30 minutes.
And that's it! This bread is seriously so good and really easy to make. Here are a couple more tidbits I have to say about this recipe:
If you want to make crescent rolls or other rolls instead of a loaf of bread, the recipe makes about a dozen rolls. Bake them at 350 degrees for 12 minutes.
Prep for the recipe by getting all of your ingredients ready. Put the salt and sugar together in a little bowl, and also the oil in a little bowl. That way you can just throw everything in without having to sit there and measure as you go.
When baking it is very important to measure everything exactly. Especially the flour. If you put too much in it can be too dry. Not enough will make it sticky and hard to knead.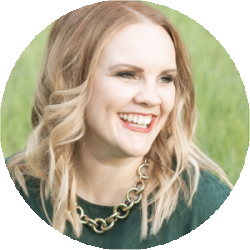 Alli is the food blogger and photographer behind Cupcake Diaries. Nestled in Northern Utah with her three young boys, hubby, and a full pantry, she loves baking all kinds of treats as well as quick and easy meals for her family. She also loves throwing parties and sharing the details on her blog. What started out as sharing a few recipes with family members here and there soon turned into a full-functioning recipe blog with readers from all around the world. Alli is a full-time mom and piano teacher who enjoys music, holidays, and spending time with her family.