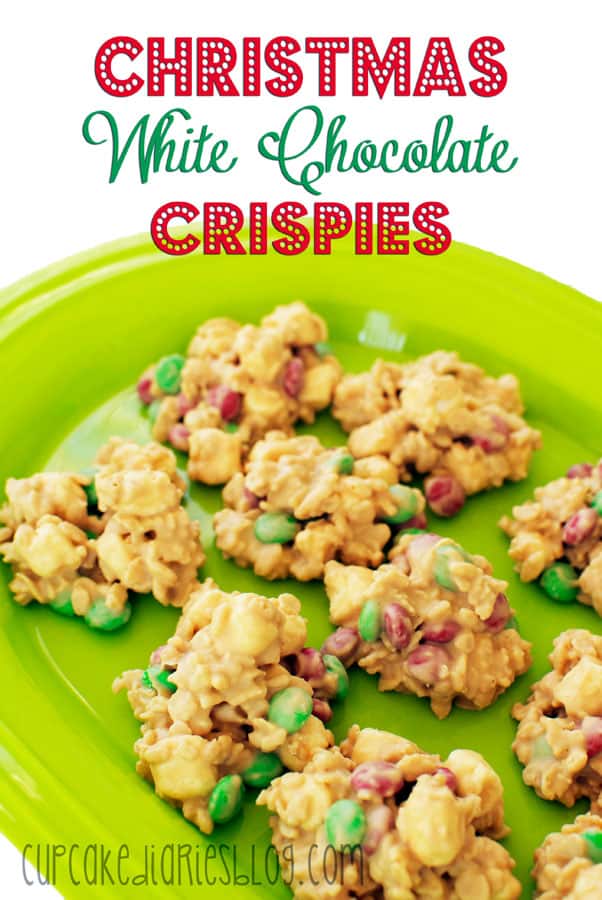 I can't even explain how much I love Christmas treats! These Christmas White Chocolate Crispies are especially delicious and super easy to make. No cooking necessary! Just microwaving and mixing. My kind of treat!
These lovely little things include peanut butter, white chocolate, marshmallows and M&M's. So pretty much heaven in a bite. (Unless you're like my father-in-law and hate peanut butter!) I love the flavor combo of these treats and can't way to add them to my Christmas plates for neighbors!
Christmas White Chocolate Crispies
Ingredients
4 c. rice crispies cereal
2 bags white chocolate chips
1 c. peanut butter (creamy or crunchy)
3 c. marshmallows
1 medium bag plain Christmas M&M's candies
Instructions
Place peanut butter and white chocolate chips in a microwave safe bowl. Heat for 1 minute, stir, then heat for 30 more seconds and stir. Stir until everything is smooth and melted together.
Place the cereal and marshmallows in a large mixing bowl and stir together. Pour the melted chocolate chips and peanut butter over the cereal and marshmallows. Stir together till the marshmallows and cereal are coated. (Marshmallows will remain whole.)
Add the M&M's and stir enough to coat. Drop spoonfuls of the mixture onto wax paper and allow to cool.
http://www.cupcakediariesblog.com/2013/12/christmas-white-chocolate-crispies.html
Looking for more Christmas ideas? A few other bloggers are sharing Christmas ideas today that are so fun and cute! Check them out below!