Ad – This is a sponsored conversation written by me on behalf of Pillsbury™. The opinions and text are all mine.
Ring in a new school year with a batch of Back-to-School Brownies! These brownies are so easy, from the brownies themselves to the cute eatable school supplies on top.
School is officially in session and the kids are loving it! I have two kids in public school this year and they're both working hard as we are getting into a daily routine. We are celebrating a new school year with Back-to-School Brownies using Pillsbury™ brownies. You can't get much easier and more fun for back-to-school!
You can't really beat a batch of brownies when it involves Pillsbury Chocolate Fudge Brownie Mix. Pillsbury brownies remind me of Sunday evenings growing up. They were my mom's favorite treat to bake for her family. I loved baking these brownies for my kids and introducing them to something that I've loved so much since I was a kid.
We frosted our Back-to-School Brownies with the new Pillsbury Filled Pastry Bag and it was so convenient and yummy. The Pillsbury pre-filled pastry bags makes frosting brownies and other treats so much easier! Each Pillsbury Filled Pastry Bag comes filled with Vanilla, Chocolate Fudge, or Cream Cheese frosting and even has a built-in star tip. They're a great way for my kids to learn how to pipe on frosting. There is very little clean up and your desserts are perfectly piped with frosting. They're awesome!
While the brownies baked, my oldest son worked on the baking worksheets we got with all our Pillsbury goodies. If math was always baking related I think he would love it a whole lot more! He had so much fun answering the questions and learning about baking measurements.
I baked our brownies in a 9×9 pan to make them a little thicker. After the brownies were done baking, I cut them into nine brownies.
And this is all you'll need to decorate the brownies! I decided to add sprinkles to some of the brownies. How fun are those school-themed sugar decorations? They are the perfect finishing touch for these brownies!
Use the Pillsbury Filled Pastry Bag to pipe a chocolate frosting swirl on the center of each brownie. Then add sprinkles, if desired, then decorations. And just like that you have Back-to-School Brownies!
Back-to-School Brownies
makes 9 brownies
1 box Pillsbury Chocolate Fudge Brownie Mix, family size
2/3 c. oil
1/4 c. water
2 eggs
1 Pillsbury Filled Pastry Bag, chocolate
rainbow sprinkles (optional)
Instructions
Preheat the oven to 350°F; grease a 9×9 pan and set aside.
Combine brownie mix, oil, water, and eggs in a mixing bowl until blended. Spread into pan and bake 30-35 minutes. Remove from the oven and allow to cool completely before cutting.
Cut the pan of brownies into nine even bars. Top each brownie with a swirl of frosting, then add sprinkles and sugar decorations. Serve and enjoy!
These brownies are the perfect dessert to celebrate a new school year. Pillsbury and the Doughboy want to inspire you to join Operation Celebration. Sign up HERE for the Pillsbury Operation Celebration newsletter to receive baking ideas!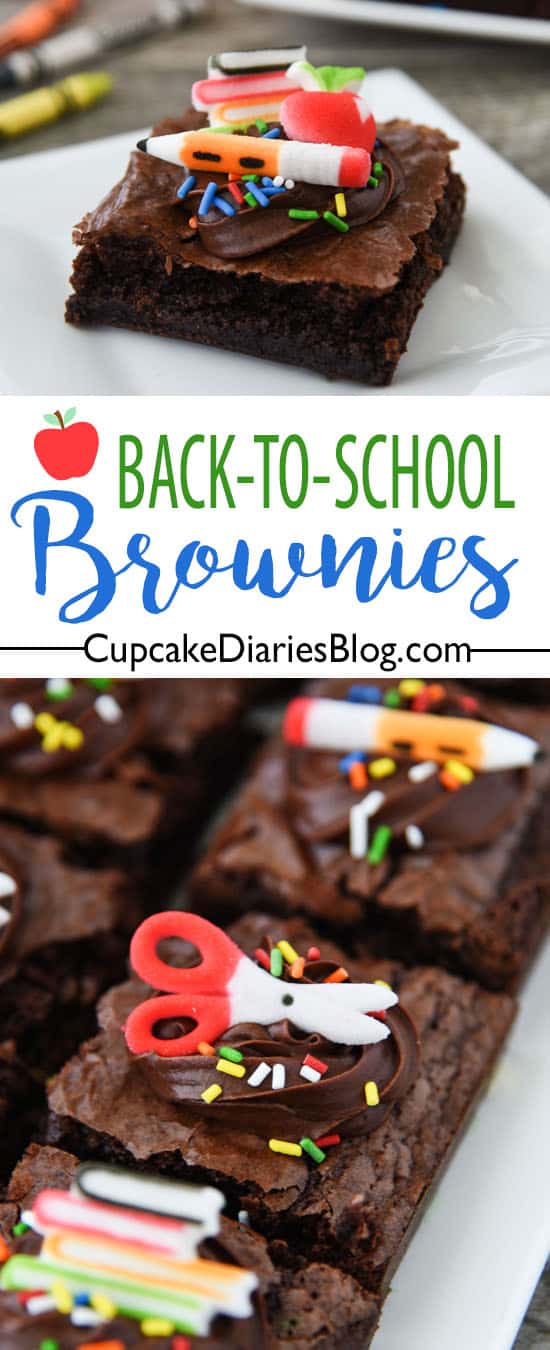 Ad – This is a sponsored conversation written by me on behalf of Pillsbury. The opinions and text are all mine.