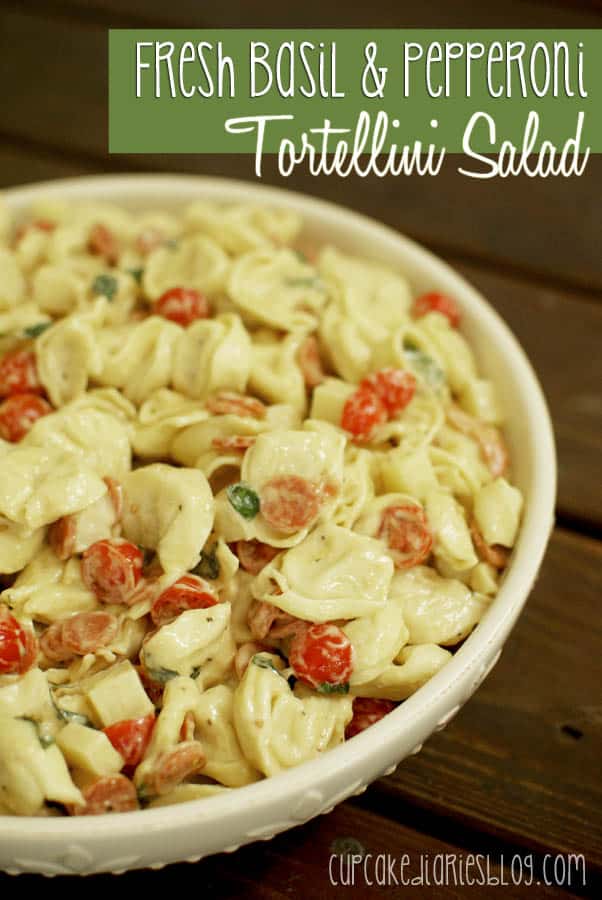 Back in August we went to a family reunion with my dad's side down in Draper, UT. I always love visiting with my dad's family. They're some of the most genuine people I know and they're always interested in what and how I'm doing. They're pretty darn fabulous.
We had burgers on the grill, corn on the cob, and all kinds of yummy side dishes. I brought this Fresh Basil and Pepper Tortellini Salad and it was a huge hit. This is one of those yummy pasta salads that you put together then let sit in the fridge before it tastes its best. It is sooooo good!
I have Kira from Hot Cookin' Mama to thank for this recipe! She wasn't kidding when she said, "It has a very fresh yet filling taste to it that you'll just die for!" Let's just say I didn't even bother enjoying leftovers out of a bowl. I just grabbed a fork and ate right out of the Tupperware! This is a great side dish for any time of year.
Fresh Basil & Pepperoni Tortellini Salad
Ingredients
1

20 oz pkg Buitoni cheese tortellini

1

c.

chopped pepperoni

or small pepperoni slices

1/3

c.

chopped fresh basil

1/2

c.

cubed mozzarella cheese

1

c.

caesar dressing

1

c.

cherry tomatoes

halved
Instructions
Cooked the tortellini according to package directions. Drain and set aside.

Pour caesar dressing over tortellinis. Add other ingredients and carefully mix together without breaking the tortellini apart.

Cover and place in the refrigerator for at least 2 hours before serving.