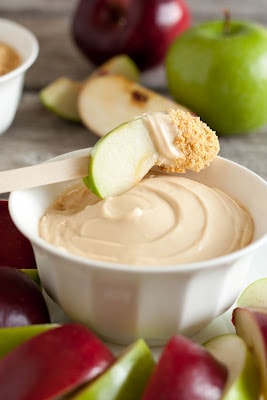 Fall is quickly approaching! When I think of fall, one of the first things that comes to mind is a caramel apple. Caramel apples are such a yummy treat and one of my favorite parts of fall. Now think of a delicious caramel apple mixed up in a cheesecake. Drooling yet? This dip is precisely that beautiful combination. It is super easy to make and ridiculously good. There are only three ingredients-something all of us can handle! How does something so darn good involve so little ingredients? I can see this being present at a lot of parties this fall!
Caramel Cheesecake Apple Dip
Cooking Classy
makes enough for a small crowd (around 10 people-ish)
2 (8 oz) packages cream cheese, chilled
1 c. caramel ice cream topping, chilled (The Hershey's caramel in the glass jar seems to work the best for this.)
1 store bought graham cracker pie crust, crumbled
Place the cream cheese in a mixing bowl and whip it with an electric mixer. Mix till it's smooth and fluffy (about 1 minute). Stir in the caramel ice cream topping.
Break up that pie crust into pieces and crush it up till it's finely broken. This works best in a chopper but if you don't have one, place the pieces in a plastic baggy and use a rolling pin over it till the pieces are nice and fine. Place the crushed pie crust in a small bowl.
Time to dig in! Dip apple slices into the dip, then dip right into the graham cracker crust bowl. And that's it! Super delicious and easy.
If for some reason you have leftovers, store it in the fridge for up to one week.