This week has been all about doTERRA essential oils and different recipes that use different oils. And not to mention the fabulous giveaway happening! You don't want to miss out on that one.
Today I'm sharing another easy and tasty recipe that uses two doTERRA oils. And did I mention it's easy?
I love going to Mexican restaurants and loading up on chips and salsa before my meal comes. Not to mention the bowl of this restaurant-style salsa I keep in the fridge. I don't even put it a little bit in a small bowl! I just take the lid off and go for it. Needless to say, that's my personal bowl of salsa.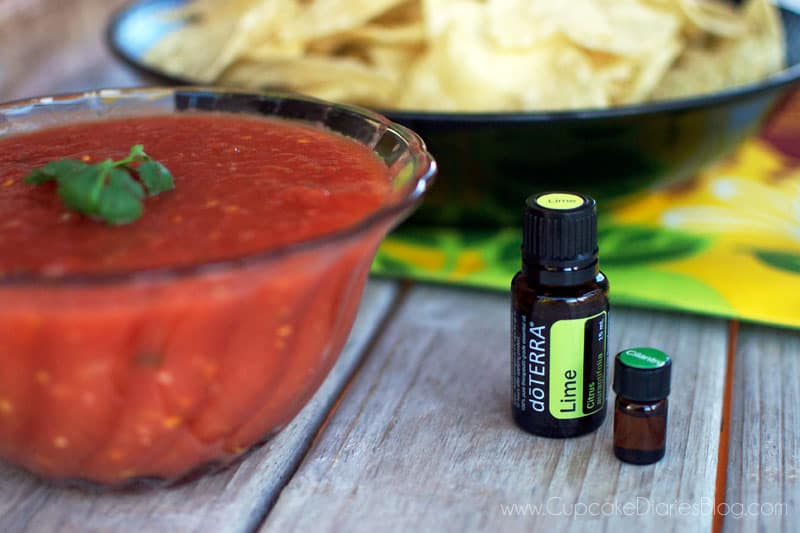 This salsa recipe use the doTERRA lime and cilantro oils. Again, my eyes were opened up all kinds of wide when I learned not only that these oils existed, but that you can use these oils in food. Love!! My favorite thing about the cilantro oil is that I didn't have to pull a bunch of cilantro leaves off to make this salsa. All it took was 2 little drops of the cilantro oil and I got the same amazing cilantro flavor I would have if I had chopped up a bunch a put it in the salsa. This was by far the fastest salsa I've ever made! And apparently cilantro oil helps with indigestion. Who would have thought? 
Easy Restaurant-Style Salsa
Ingredients
1 (28oz) can whole tomatoes
1 (10oz) can original Rotel
1 (10oz) can mild Rotel
1/4 c. onion, chopped
1/2 tsp. minced garlic
1 small jalapeno, quartered and sliced thin
1/2 tsp. sugar
1 tsp. salt
1/2 tsp. ground cumin
2 drops doTERRA cilantro oil
1-2 drops doTERRA lime oil
Instructions
Combine all ingredients in a blender or food processor, pulsing until you get a restaurant-style consistency of salsa or a desired consistency.
Refrigerate for at least an hour. Serve with tortilla chips.
http://www.cupcakediariesblog.com/2014/07/easy-restaurant-style-salsa.html
Don't miss out on the fun doTERRA giveaway happening this week! Simply fill out the Rafflecopter widget below and you're entered. You can do as little or as many options as you'd like to enter.
And a BIG thanks to Holly from Oil Obsession for making the giveaway possible and for the crazy good recipes! This has been a lot of fun!
Can't wait for the giveaway to end to indulge in the amazingness that is doTERRA essential oils? Click here to shop for products!