Hi! My name is Kathleen and I blog at 
Fearlessly Creative Mammas with my oldest daughter, Samantha. We blog about all things creative, or at least creative to us. I'd like to thank Allison for having me today. I'm excited to meet some new people.  It's funny that as bloggers, our friends are people we have never met face to face, but people we interact with online, in different groups. Please allow me to tell you a little about myself.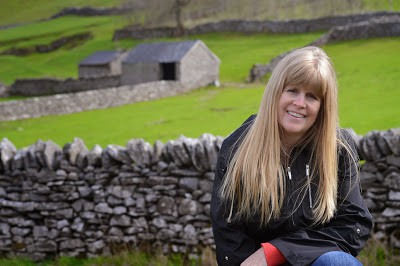 I am blessed to have a really fantastic and supportive husband, three really great kids and three of the most adorable grandkids in the world. I have lots and lots of hobbies, but besides creating, my favorites are traveling, reading, photography, camping, hiking and spending time with my family and friends. I have also taken up archery in the past few years and I really like that, unless there are little kids on the range out shooting me. Then I get a little bent out of shape. I know, I'm a grown up, but sometimes that doesn't help. I'm not mean or anything, just bent out of shape. 
I really hope you like cookies as much as I do because I have a fabulous cookie recipe for you today.  This recipe is from my husband's grandmother, who was a really wonderful lady. My husband was particularly close to his grandparents because he stayed with them for several months to help with his grandfather when he had an accident. They lived on a farm and had a ranch that they owned and operated in the summers. We were at the ranch this fall and my husband was telling me about the cattle drives they did every year. It seems so foreign and kind of wistful to me. I'm sure it was hard work, but I really would like to go on one of those drives sometime. My behind might disagree at the end of it though.



After I met his grandparents, we would go to visit them and his grandma would make the most wonderful lunches for us. Seriously, that wonderful lady could cook. It was so nice to sit around the table for an hour and have a great meal and conversation. After lunch it was quiet time for a little bit, which was really nice as well. These cookies were almost always there for us and I always ate too many of them. Still do, but now I have to make them to eat them. 
This and the No Bake Cookie recipe are my husband's very favorite cookies and I make them often. You will notice that the pictures have a Christmas theme. Sorry about that, but I photographed them at Christmas. 
Grandma's Butterscotch Cookies
Ingredients
1/2 c. butter
1 1/2 c. brown sugar
2 eggs
1 c. sweetened condensed milk or half and half
1 tsp. vinegar
2 1/2 c. flour
1 tsp. baking soda
1/2 tsp. salt
1 tsp. vanilla
Instructions
Cream butter, sugar and eggs in large mixing bowl. Sift and mix together flour, baking soda, baking powder and salt.
In another bowl, combine the milk or half and half with the vinegar and mix well. Add the vanilla to the milk mixture. Add dry ingredients a little at a time to creamed mixture, alternating with the milk, mixing well.
When the dough is mixed well, place on ungreased cookie sheet in teaspoonfuls, about 2 inches apart. Bake at 350° for 10-12 minutes, or until golden brown. Cool on a wire rack.
http://www.cupcakediariesblog.com/2014/04/3136.html
Frosting for Grandma's Butterscotch Cookies
Ingredients
1/2 c. butter
2 c. powdered sugar
1/4 c. cold water
Instructions
Cook butter in a saucepan over low heat until it turns an amber color and it stops bubbling. Be sure not to burn it. (see picture below)
Remove from heat and add two cups of powdered sugar and 1/4 cup cold water. Beat until spreadable.
Spread on cookies while the frosting is still warm. Allow the cookies to sit until the frosting is
set.
http://www.cupcakediariesblog.com/2014/04/3136.html
Store cookies in an air tight container. I like to put some parchment paper between the layers so they don't stick together. 
I hope you will try these cookies out and stop by
Fearlessly Creative Mammas
 and see what else we have to offer. If you like cookies, we have lots of different varieties.
Thank you, Allison, for having me as your guest blogger for today! It's always great to make some new friends. 
Please visit our blogs below.
Family Blog:
http://pebblepirouette.blogspot.com/
Creative Blog:
fearlesslycreativemammas.blogspot.com
Photography:
http://photographybykathleenclegg.blogspot.com