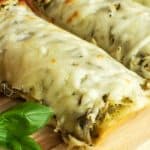 Print
Easy Pesto Bread
A pizzeria-style favorite is easily made at home! You only need three ingredients to make this bread that your family is going to love. Serve with lasagna for a complete dinner!
Cut the french bread loaf in half to make to long French bread halves. Spread the pesto evenly over each loaf and top with cheese (1 cup cheese on each loaf half).

Place bread cheese side up on a cookie sheet. Put in the oven on high broil until cheese is melted and bread is slightly toasted. Cut and serve.