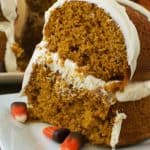 Print
Surprise Pumpkin Spice Cake
Pumpkin spice desserts are the most popular treats during the fall. This perfectly moist and delicious pumpkin spice cake is easy to make and even has a surprise treat in each slice! A special baking pan makes this a surprise cake without the extra work.
Prepare cake batter by combining cake mix, pumpkin puree, vegetable oil, and eggs with an electric stand or hand mixer. Mix until combined. Pour batter in pans about 2/3 full. There will be leftover batter.

Bake cakes 28-32 minutes, or until toothpick inserted comes out clean. Allow to cool completely then invert onto a towel or cooling rack.

Fill each divot on the bottom cake with indian corn. Use one can of frosting to cover the candy and frost the top of the cake. Top with the other cake and frost with the other can of frosting by melting in the microwave for 30 seconds (10 seconds at a time and stirring in between each) and drizzling over the cake. Cut, serve, and enjoy!