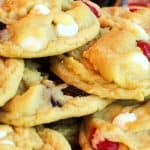 Print
Chunky White Chocolate and M&M® Ghostbusters Cookies
Perfectly chewy chocolate chip cookie dough is stuffed full of white chocolate chips and red and brown M&M's. A perfect treat for the new Ghostbusters movie and back to school!
Preheat the oven to 375°.

Cream together butter and both sugars; add egg and vanilla.

In a small bowl, whisk together salt, baking soda, and pudding. Add the dry mixture to the butter mixture, then slowly add flour.

Add M&M's® Milk and white chocolate chips to the dough with a wooden spoon. Cover dough and place in the refrigerator for about 10 minutes to chill.

Drop dough by the spoonful or with a cookie scoop onto a greased cookie sheet. Bake 7-8 minutes, or until lightly golden on top.