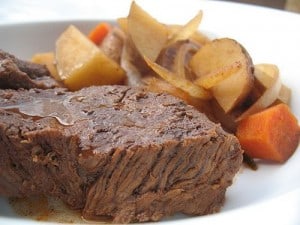 Growing up I started relating Sundays with roast because we always had roast for dinner. Mom would put the roast along with oodles and oodles of veggies into the roaster right before church. Then we would come home three hours later and magically it would be ready. I love those childhood memories.
To this day I love having roast for dinner. Whether it be Sunday afternoon or a Wednesday evening, a roast with veggies is one of those meals that is just timeless. This recipe is made in the crock pot and super easy. I love recipes where all you have to do is throw everything in and leave it to work its magic.

Slow Cooker Roast with Potatoes and Carrots
Marie's Cooking Adventures
2-5 lb. pot roast (your favorite)
1 envelope of dry Ranch dressing
1 envelope of Italian dressing
1 envelope of brown gravy mix
desired amount of potatoes and carrots to feed the fam
1 Tbsp salt
1 – 2 tsp. pepper
1 – 1 1/2 c. water
Directions
Cut up the potatoes and carrots into chunks and toss them in the crock pot. Place the roast right on top of the veggies and salt and pepper it. Sprinkle all three envelopes over the roast. Add the water and cook on low for 6 1/2 to 7 hours or until the veggies are tender and cooked through.
*If you're working with a frozen roast, cook for 6 1/2 to 7 hours. If it's thawed, cook 5 to 5 1/2 hours.
Click here for another one of my favorite crock pot roast recipes!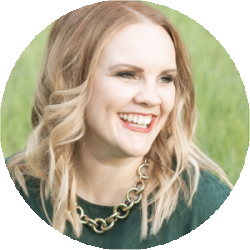 Alli is the food blogger and photographer behind Cupcake Diaries. Nestled in Northern Utah with her four young boys, hubby, and a full pantry, she loves baking all kinds of treats as well as quick and easy meals for her family. What started out as sharing a few recipes with family members here and there soon turned into a full-functioning recipe blog with readers from all around the world! Alli is a full-time mom who enjoys music, holidays, and spending time with her family.