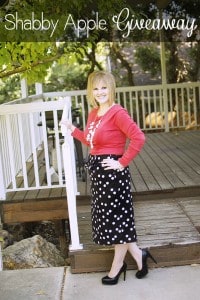 This food blogger loves a good skirt. So when Shabby Apple contacted me about a giveaway there was NO WAY I was going to turn them down! I LOVE Shabby Apple and have had my eye on a handful of dresses and skirts from the shop.
Shabby Apple is an online dress boutique that specializes in vintage and retro dresses. The selection is amazing! Talk about some fun styles. Click here to check out the selection.
I got to try out the Hully-Gully skirt and I LOVE it. I wore it to church this past Sunday and got all kinds of compliments.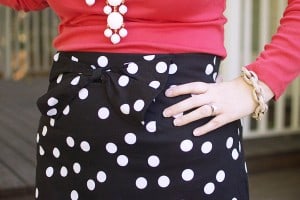 Some of my favorite things about this skirt:
The length! It's so hard to find a long enough skirt. I was thrilled when I saw how long this one was.
That fabulous bow right on the front. That bow is seriously rockin'. I love the pop that it adds and that extra feminine touch. (Shabby Apple also has a couple other skirts with that same awesome bow!)
The boldness of the polka dots. I love how big they are!
The quality. I'm so impressed with how well this skirt was made! Hats off to the seamstress!
I can wear it with just about anything. I had a hard time deciding what top to wear with this, so I went with this pop of color. It was so fun picking out jewelry and shoes, too!
So now that I've got you drooling for a new dress or skirt from Shabby Apple, here's your chance to win a $50 gift card to Shabby Apple! All you have to do is fill out as much as the Rafflecopter below as you'd like. Good luck!
Thank you, Shabby Apple, for the fabulous skirt and giveaway!!