Bunco night needs dessert! Dice Brownies look just like dice and they're perfect to serve at Bunco. Great for a take-home treat!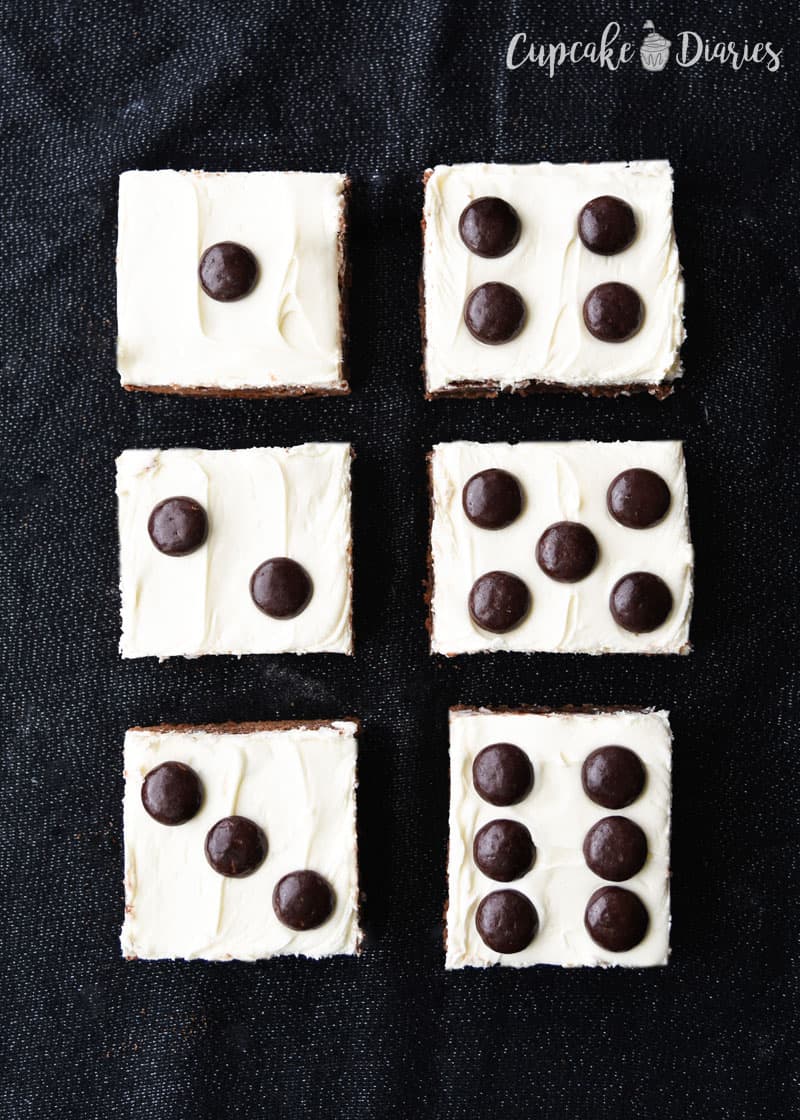 I can't even explain how much I look forward to Bunco night! There's something pretty awesome about getting away from all the crazy to meet up with friends and join another crazy. ha! It's seriously such a blast. Last month I hosted my first Bunco night and preparing for it was like being seven again planning my eighth birthday party. Picking out prizes was so fun! And then getting the night put together…I had so much fun! We had a great time and all the girls brought home one of these Dice Brownies as a little parting gift. They're easy to make and kind of perfect for Bunco!
What is Bunco?
Bunco is a social game played by 12 people using three tables. One person hosts Bunco night and players switch off hosting throughout the year. (Learn more here!)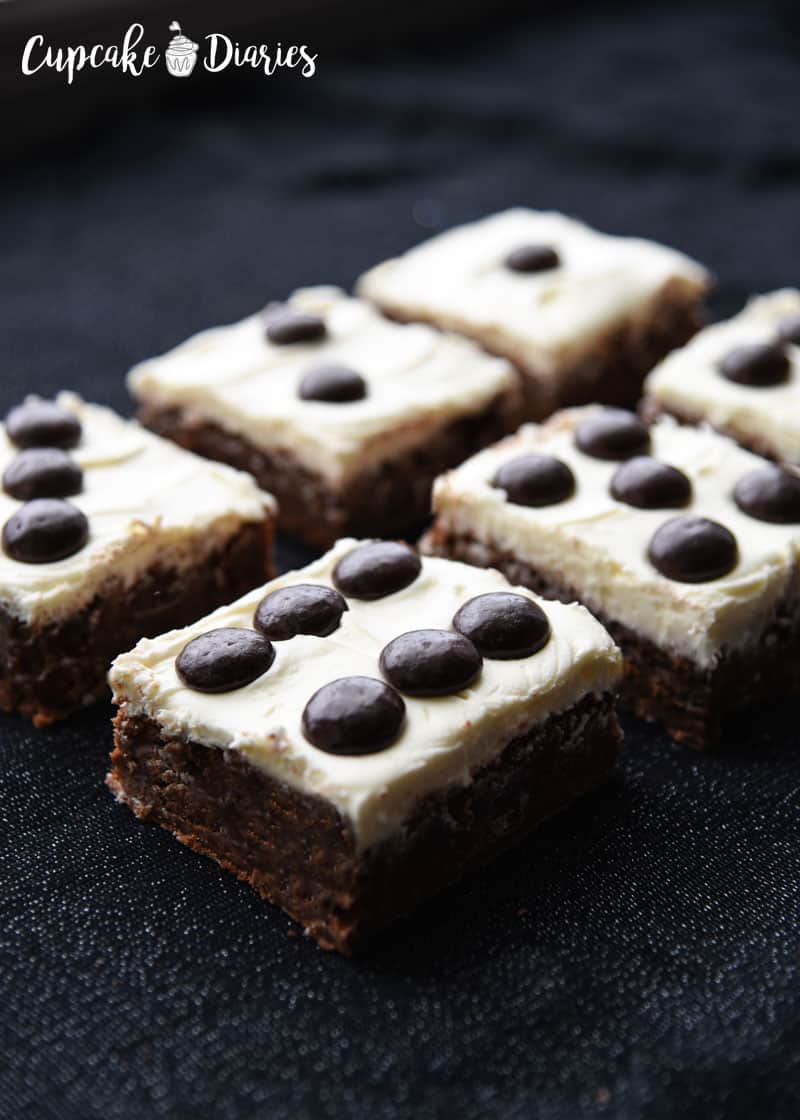 How to Use Dice Brownies for Bunco
You can serve Dice Brownies as a dessert for Bunco night, or you can send your guests home with them. You'll get 12 brownies (two of each number) in one batch, which is exactly how many you'll need for the group!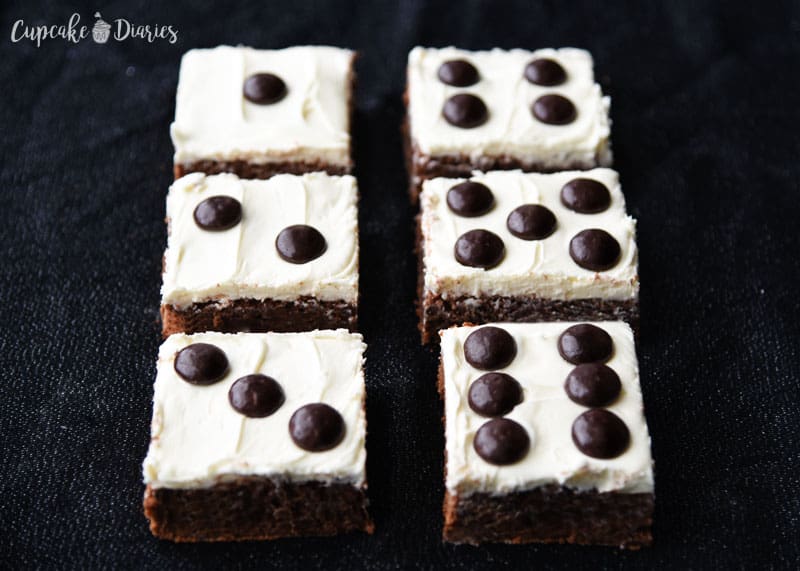 The secret to the perfect dice dots on these yummy brownies lies in my mom's favorite candy: Junior Mints. Just buy a couple of movie size boxes of Junior Mints and that's all you'll need!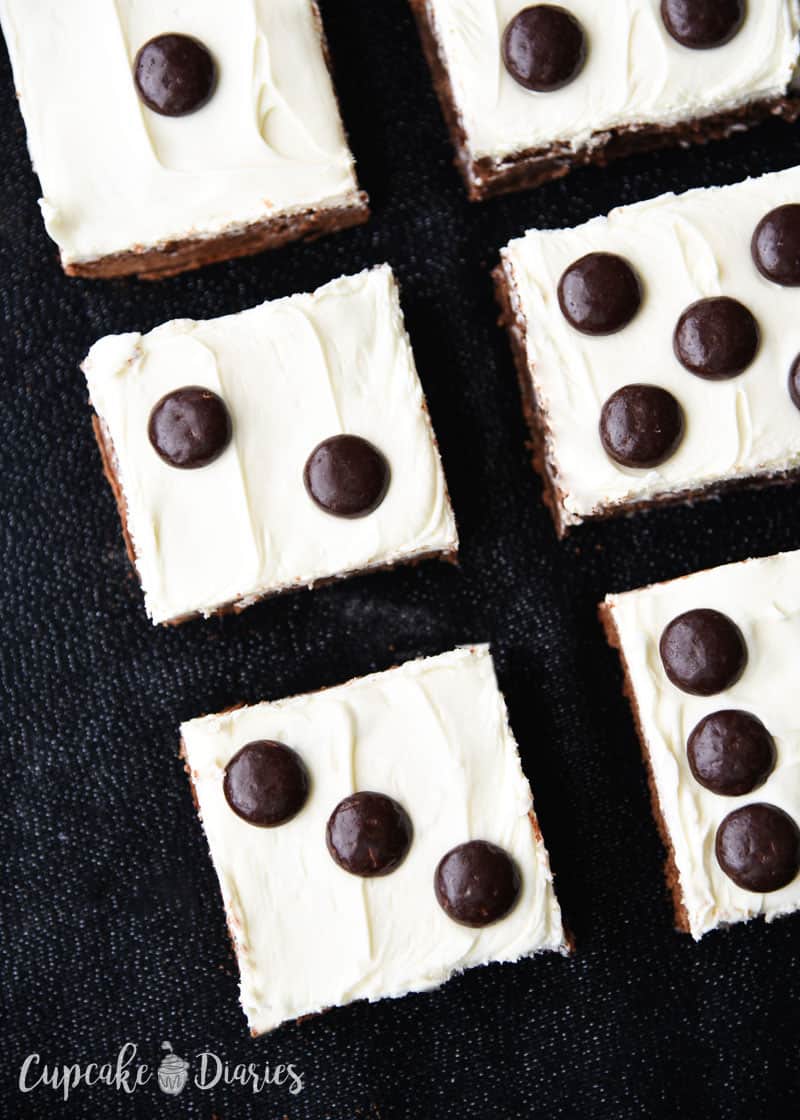 Dice Brownies Bunco Dessert Recipe
Bunco night needs dessert! Dice Brownies is the perfect recipe to serve on Bunco night.

Ingredients
1

c

butter,

softened

2

c

sugar

4

large

eggs

2

tsp.

vanilla

6

Tbsp

cocoa powder

2

c

flour

2

(16oz) cans

vanilla frosting

2

boxes

Junior Mints candy,

movie size
Instructions
Preheat the oven to 350° F; grease a 9x13 pan and set aside.

Cream together butter and sugar in a stand mixer or electric hand mixer. Add eggs one at a time.

Add vanilla and cocoa; mix together until combined.

Add flour one cup at a time and mix until combined. Pour batter in prepared baking pan and bake 30 minutes, or until a toothpick inserted into the center comes out clean. Allow brownies to cool completely before frosting.

Frost the brownies with one of the cans. Add more frosting as desired (I used both cans entirely). Use a sharp knife to lightly score lines to make 12 square brownies. Add Junior Mints to each square to make 12 dice, two in each number (two 1's, two 2's, etc.)

Cover with plastic wrap and place in the fridge. Remove from fridge one hour before serving and cut the brownies. (This will make nice, smooth edges on the brownies and frosting.) Place on a platter to serve, or place in baggies for a take-home treat.
Kitchen Tools and Gadgets I Used for This Recipe
More Great Recipes for Bunco
We love Sweet and Sour Party Meatballs. They cook in the crock pot so you don't even have to worry about them. Another great recipe is Spinach and Artichoke Dip Cups. It's your classic, hot spinach and artichoke dip in a crispy cup. Chicken Parmesan Sliders are SUPER easy to put together.
Classic No-Bake Cookies are always a hit. Who doesn't love a no-bake cookie? Scotcheroos are another favorite and they make a nice big batch. Perfect for everybody who wants seconds and thirds!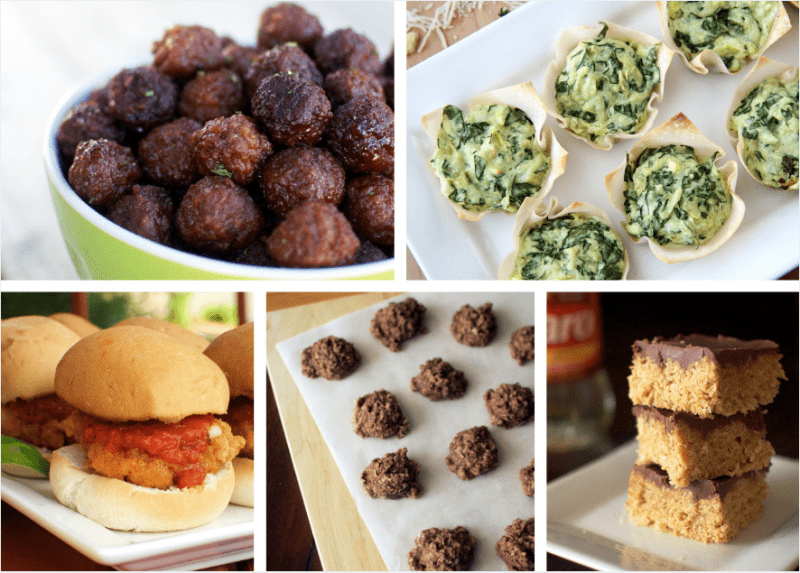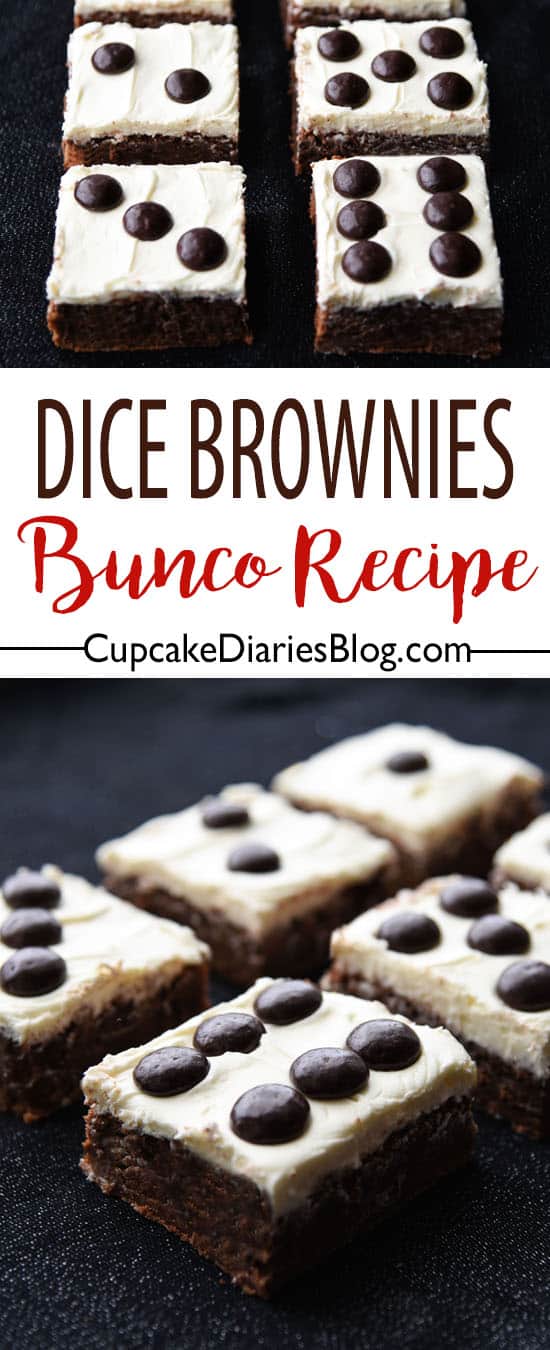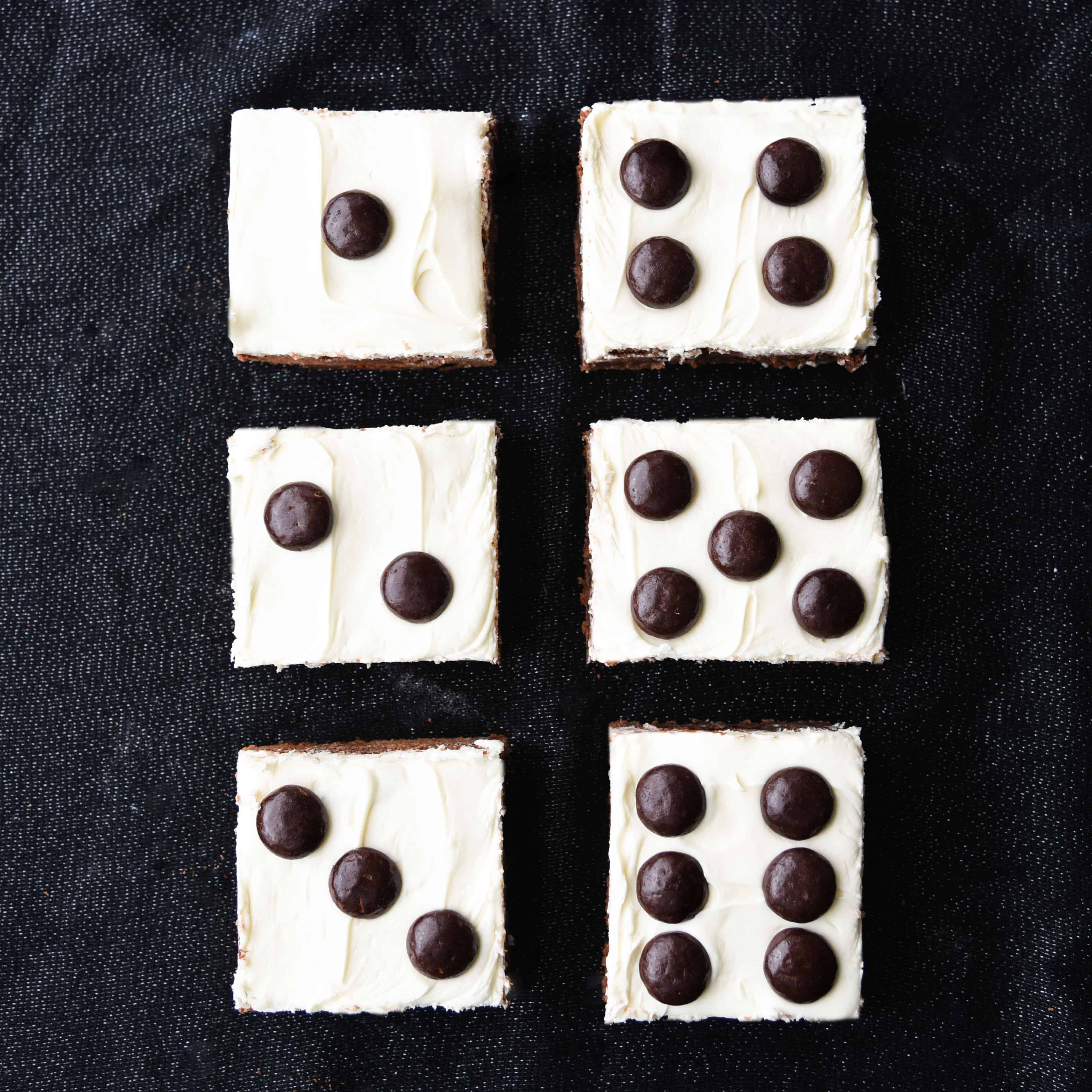 This post contains affiliate links. I include these links to help you find the products that I used in the recipe. If you purchase an item from the link, I will receive a small commission helping keep my recipes free for you. Thank you for your support!