This is a Sponsored post written by me on behalf of Arby's for SocialSpark. All opinions are 100% mine.
I have a love for really good fast food. Some of my favorite nights involve my husband and i making that ever so important decision on what place we're going to go pick up dinner. We don't do this often so when it does happen it's a pretty good time. We bring our dinner back home and eat together with our kids enjoying each and every bite.
If my husband could he would eat Arby's every day. It's his favorite place to pick up a quick dinner. He gets the same thing every time…until we decided to try the new Grand Turkey Club. On one weekend we used our takeout choice on this sandwich and all I could say after the first bite was, "Oh. My." This sandwich is more than a sandwich. It's pure magic! I didn't really know too much about it when I ordered it so I went in completely blind. But I like club sandwiches so I was sure it would be a winner. After one bite I was in heaven!
Let me paint you a little picture of what this baby is all about: a Harvest Wheat bun topped with freshly sliced roast turkey, melted Swiss cheese, pepper bacon, leaf lettuce, tomato, and mayo. SO good! And I love how it's served hot. Most club sandwiches I've ever tried are served cold, but I'm all about the Arby's way of serving it hot!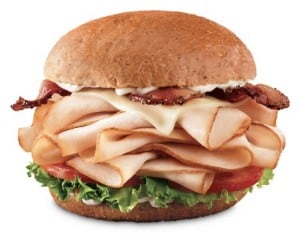 Isn't she beautiful?
My husband decided to get his sandwich with ham. Yes, you saw that right. Add ham to make it a Grand Turkey Ham Club. Are your taste buds just going crazy right about now? I'm thinking about calling my husband and having him pick this up for dinner again. And I'm going with the ham this time! It's super yummy.
This is certainly no ordinary turkey sandwich. Find your local Arby's and go there right now. Just stop what you're doing and go. Or wait till dinner and pick one up, that's fine too. But whatever you do, you have to try this sandwich! It's simply heaven on a bun.