I've loved having some of my favorite bloggers fill in for me while I'm in NYC! They're bringing along some pretty fabulous summer recipes that I can't wait to try.
Today's post comes from Katie over at
Clarks Condensed
. I've found some pretty great recipes from her blog that are on my list of must-makes, among other awesome blog posts. Head over to Clarks Condensed and you'll see what I mean!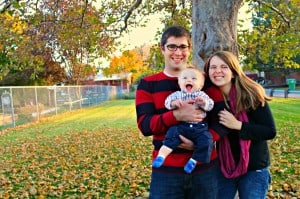 Hi everyone! My name is Katie Clark, and I blog over at Clarks Condensed! I'm so thrilled to be guest posting here at the Cupcake Diaries. If you haven't ever visited Clarks Condensed, I'd love for you to stop by. My husband and I started it in January, and have had so much fun posting our favorite recipes, parenting advice, tips on thrifty living, and more. And if you like what you see, be sure to follow us on Facebook, Twitter, Pinterest, Google+, or Blog Lovin'!
Everyone is always on the search for the best chocolate chip cookies, right? Well, no need to look any further, because I have that recipe right here. And not only that, but instructions on how to make your own cookie pizza using that recipe!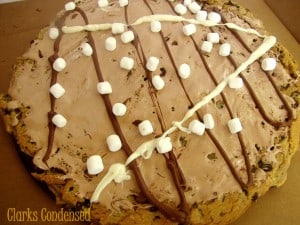 My mom was given this recipe awhile back after she tried these cookies at a church activity. When she made them, I was skeptical. She claimed they were the best cookies she had ever tried, and she knew I would feel the same way. For me, a chocolate chip cookie has to have the combination of softness, chewiness, chocolaty-ness, and butteriness. And these cookies have all that…and more.
Don't ask me exactly why, but we are pretty sure it's because of the butter flavored Crisco. We've made it with plain Crisco, and something is definitely missing!
This recipe was recently used in my house to make a cookie pizza for my brother-in-law's birthday. I helped my sister make the final product, and we came up with a delicious frosting to put on top. This is an easy dessert that can make any celebration a little more fun.
This recipe can be made into one big cookie, or it makes two dozen — depending on what you want! I've also included the marshmallow frosting recipe below. I hope your family enjoys this recipe as much as mine has!
Marshmallow Chocolate Chip Cookie Cake
serves 10ish
Cookie Dough
1 cup butter flavored Crisco
1 cup granulated sugar
1/2 cup brown sugar
2 eggs
2 teaspoons vanilla
2 cups flour
1 1/2 teaspoons salt
1 teaspoon baking soda
1 12 oz. bag milk chocolate chips
Preheat oven to 345 degrees. Cream first five ingredients until light and fluffy. Add dry ingredients and mix into creamed mixture. Add milk chocolate chips. Spread cookie dough evenly on a pizza stone or other cookie sheet. Bake for 15-20 minutes.
for cookies, spray cookie sheet, and put tablespoons full about 1.5 inches apart. Cool on paper towel.
Marshmallow Frosting
1 cup marshmallow cream
1/2 cup milk chocolate chips
Melt marshmallow cream and chocolate chips together in the microwave in 30-second intervals, or in a sauce pan on the stove. Spread over the top of cookie cake. Decorate as desired.