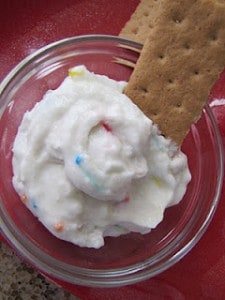 I love a good dip at a party! With all of the options out there, I never thought of making something sweet and desserty like this Funfetti Cake Batter Dip. I love this dip and how easy it is to make. You can dip all kinds of delicious goodies in this dip: fruit, graham crackers, animal crackers, etc. And it really does taste like Funfetti cake batter! This dip is wonderful. It's good for a party, but it's also really easy to make individual portions if you don't want to make a big bowl of it. But why wouldn't you want to make the whole bowl? That's just crazy.
Funfetti Cake Batter Dip
Adventures in Food
To make a full bowl:
1 box Funfetti cake mix
1 tub lite Cool Whip
2 c. low fat vanilla yogurt
Fold the ingredients together. Serve immediately or keep it in the fridge until you need it.
To make an individual portion:
3 Tbsp Funfetti cake mix powder
2 Tbsp vanilla yogurt
1 Tbsp lite Cool Whip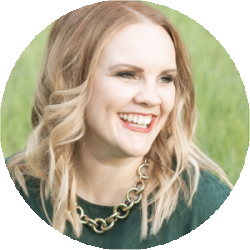 Alli is the food blogger and photographer behind Cupcake Diaries. Nestled in Northern Utah with her three young boys, hubby, and a full pantry, she loves baking all kinds of treats as well as quick and easy meals for her family. She also loves throwing parties and sharing the details on her blog. What started out as sharing a few recipes with family members here and there soon turned into a full-functioning recipe blog with readers from all around the world. Alli is a full-time mom and piano teacher who enjoys music, holidays, and spending time with her family.