First off, thank you SO MUCH for all of the wonderful blog comments and e-mails I've received about the arrival of our baby! I appreciate the warmth and love that has come our way during this exciting by trying time. I have the best readers ever! For those who aren't in the know, I delivered my son at 32 weeks on June 2nd via emergency c-section. He's now in the NICU and has a long way to go. But he's doing better and better every day. We feel so blessed that he survived the ordeal on Saturday and we just love our little baby so much. Thank you again for your love and support!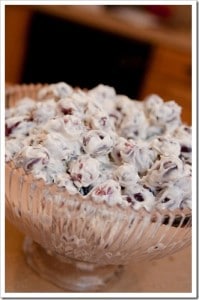 After the baby was born, a friend of ours was able to get meals brought in for us. We were so grateful for that! Thank you, friend, you know who you are! 🙂 We really appreciated the meals and loved every single thing we got. One of the side dishes we received was this Grape Salad. The gal who brought it over asked if we had ever eaten it before. I thought maybe I had, but after I tried it I realized I hadn't. Before we ate it she told us not to be scared of it because it's awesome ha ha. She's had a few experiences with that salad where those about to eat it are nervous about what they were going to eat. When we tried it we couldn't get over how good it was! She warned me that would happen. It was so yummy! This salad would be perfect for a summer bbq or party. This would make a good baby shower or bridal shower salad as well. I have a feeling that more and more people are going to love this salad!
Big thanks to Pearls, Handcuffs, and Happy Hour for the recipe and use of the photo! We inhaled our salad too fast to get a picture of it!
Grape Salad
Pearls, Handcuffs, and Happy Hour
2 lbs red and/or green grapes
1 (8 oz) package cream cheese
1 (8 oz) package sour cream
1/2 c. sugar
1/2 tsp. vanilla
chopped walnuts or pecans (optional)
brown sugar (optional)
In a large bowl, combine cream cheese, sour cream, vanilla, and sugar with a mixer. Wash the grapes and remove the stems. Fold into the cream cheese mixture until well coated.
And that's it! I know, right? Way simple for such a delicious salad. To mix things up a bit, you can add some color and put half green grapes half red grapes in the salad. Add some chopped walnuts or pecans for some crunch, and sprinkle on some brown sugar for added sweetness.