Thank you to those of you who entered the I Can't Believe It's Not Butter! giveaway!
Who doesn't like free butter?
And the winner is…
momof2girls
Congratulations! An e-mail has been sent to you!
_ _ _ _ _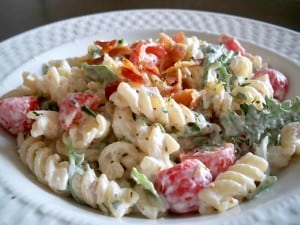 Wow, who else is having a super mild winter? It sure does make me wish spring and summer would get here faster! I have a funny feeling that we'll be getting pummeled with snow one of these days though. Either way, this pasta salad makes me happy and puts me in the mood for a good barbecue. It's far from picnic season, but that's not stopping me from making it right now! This is perfect for a spring/summer get-together and for all the BLT fans!
BLT Pasta Salad
The Cheese Pusher
3 c. corkscrew pasta
1/2 c. milk
10 slices of bacon
1 clove garlic, minced
1/2 tsp. thyme
1/3 c. mayo
3 Tbsp sour cream
3/4 c. grape tomatoes
1/2 c. arugula, packed
2 tsp. fresh parsley, chopped
1 Tbsp grated Parmesan
salt and pepper to taste
Directions
Boil the pasta in salted water according to package directions. Drain and rinse, then pour into a large bowl. Stir in the milk and set aside.
Cook the bacon on medium heat until crispy. Remove from the heat, pat dry, and crumble. In a separate pan, bring 1 tsp. of bacon drippings to low heat. Add the garlic and thyme, allowing it to cook for no more than a minute. Pour the garlic and drippings into the bowl of pasta and mix. Stir in the sour cream and mayo until thoroughly incorporated.
Halve the grape tomatoes and add them, as well as the arugula, to the pasta. Gently toss to coat the vegetables. Mix in all but 1 tsp. of the bacon. Stir in the parsley, Parmesan, salt, and pepper. Garnish with the remaining bacon and additional parsley.