First of all, what about the sadness that was BYU football on Saturday night? Yikes. I felt bad for them. I was happy for Utah, but BYU…poor guys. One of my problems is that I like both teams. Is it possible to be a fan of the two biggest college rivals in Utah? Correction. Is it possible to be a fan of the two biggest college rivals in Utah AS a resident of Utah?? We're about to jump ship and leave our Idaho home to move to Utah on Saturday so I'm not sure my allegiance to both sides is going to fly. I've tried to choose and I thought the game would help me. But sure enough, as each team was making a run for the end zone, I was cheering. I thought for sure after Utah made the first touchdown my happiness meant that I was a Utes fan. Then BYU made one and I was excited for them too. Crap. Oh well, I guess! We'll see how that works out for us down there and if we can make any friends!
Now onto THIS fabulous recipe…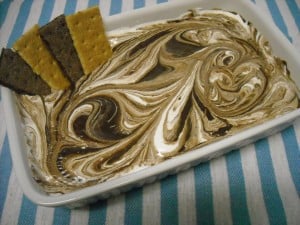 It's official.
I'm obsessed with the s'more.
What is the deal with s'mores? They're amazing!
I feel like I've made everything into a s'more, or a s'more into everything.
Why not make a dip?
So easy, so delicious.
I love this idea for a party.
Thanks, A Crafty Cook!
S'mores Dip
A Crafty Cook
1 can sweetened condensed milk
1 1/2 c. chocolate chips (milk or semi-sweet, whatever you prefer)
1/2 c. marshmallow creme
graham crackers, for dipping
Directions
In a small microwavable bowl, microwave the chocolate chips and condensed milk in 30-second incraments until the chocolate is melted. Stir as you go. Pour into a 9-inch glass pan, spreading evenly.
Drop the marshmallow creme by the tablespoon over the chocolate mixture. Put the pan in the microwave for 30 seconds or until the marshmallow is softened. (This is why you want to use a glass pan!!)
With a knife, immediately make several small swirls through the marshmallow and chocolate, creating a marble look. Serve immediately with graham cracker for dipping.
*FYI*
Erin at A Crafty Cook used the last 1/4 c. of chocolate chips left in the bag and she also used half of a small jar of marshmallow creme. And you know what happened when she put the leftover dip in the fridge? It turned into fudge. So if your plan is to make fudge out of this recipe, do what she did!