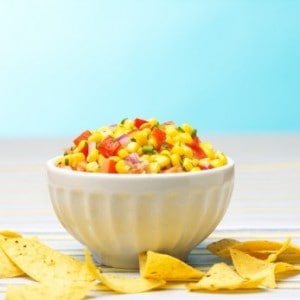 Chipotle fans, raise your hands if you wait in long lines for Chipotle's made-to-order salads and burritos. That's what I thought. Good for you! I don't think you're alone on that one. Steve Ells, the founder of Chipotle, came up with all of his recipes himself. and of course he keeps the original recipes locked up nice and safely. So that's why Food Network Magazine came up with this copycat recipe. Now you can enjoy it at home with chips or on a burrito!
Ingredients (for 4 servings)
1/2 small poblano chile pepper, seeded
3 tsp. extra-virgin olive oil
Kosher salt
1 c. fresh corn kernels (from 2 ears) or 1 c. frozen corn, thawed
1 small jalapeno pepper, seeded and chopped
2 Tbsp. chopped fresh cilantro
2 Tbsp. chopped red onion
2 Tbsp. fresh lime juice
1/2 tsp. sugar
Directions
Preheat a grill to medium high. Brush the poblano with 1 tsp. olive oil and grill, skin-side down, until charred but still firm, about 5 minutes. Cool slightly; peel and finely chop.
Bring a small pot of salted water to a boil. Add the corn and cook until tender, 2 to 3 minutes; drain. (This step to be used only if using fresh corn.)
Mix the corn (if using frozen, and it here), poblano, jalapeno, cilantro and red onion in a bowl. Stir in the remaining 2 teaspoons of olive oil, the lime juice, sugar, and 1/2 tsp. salt.