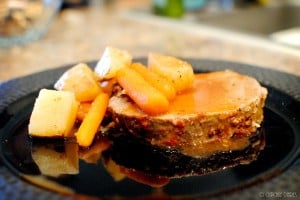 When Sunday rolls around one of my favorite things to do is put a roast in the crockpot and it let it go. By the time we get home from church the house smells delicious and the roast is ready to eat. Easy and tasty.
I don't know about you, but sometimes roast can get a little old. Cooking it the same way with the same vegetables, and half the time it comes out dry…bleh.
Recently I was watching an episode of "Barefoot Contessa" with Ina Garten and she was making a brisket for dinner. I loved what she was doing with it. All the flavors she was combining looked so good, and I really wanted to give it a try. So last Sunday was that day, and I'm really happy with how it turned out! I used a rump roast instead but everything else was the same. It had different flavors that I would never think to put together. And my husband really liked it too, so it was a win/win for everyone!
Ingredients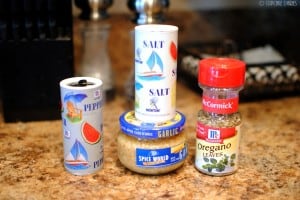 Please excuse my dorky picture of the herbs.
1 rump roast, your choice of size
2 to 4 potatoes, peeled or partially peeled
1 bag of baby carrots
1 can tomato juice (Even if you don't like tomatoes you're doing to like this! Once the roast cooks in the tomato juice it loses that super tomatoey flavor and makes a yummy gravy to pour over the veggies and roast.)
1 Tbsp. salt
1 to 2 tsp. pepper
1 tsp. oregano
1 Tbsp. garlic
any other vegetables your family likes
Directions
Place your thawed or partially thawed rump roast in the crockpot. You'll want it to be thawed on the top so some of the ingredients can be rubbed on top. The rest of it can still be frozen.
Rub 1 Tbsp. of salt over the top of the roast (or enough to cover it). Then sprinkle pepper over it, about 1 to 2 tsp. Next rub 1 tsp. of oregano over it. Finally, sprinkle 1 Tbsp. garlic over the top of the roast.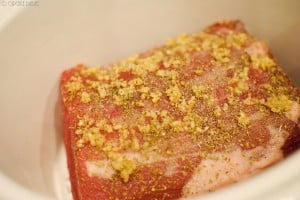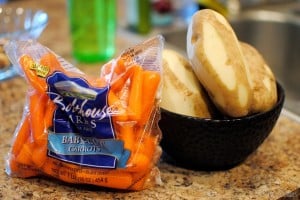 Next, cut up the potatoes into chunks and pour them over the roast. Pour the bag of carrots over as well. We ended up only using two potatoes for the two of us and half the bag of carrots.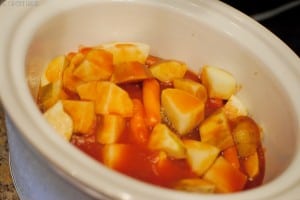 Finally, pour enough tomato juice over the roast that it almost covers it. The roast will cook in the tomato juice and it will come out so moist and delicious. Cook on low for 6 hours. Remove the roast and cut into slices. Serve with the potatoes and carrots on the side. Pour the tomato gravy over the roast and/or veggies to serve.