Ad – This is a sponsored conversation written by me on behalf of Pillsbury™. The opinions and text are all mine.
Learn about the solar system in the tastiest of ways! Galaxy Cupcakes are easy to make and a delicious treat for space explorers.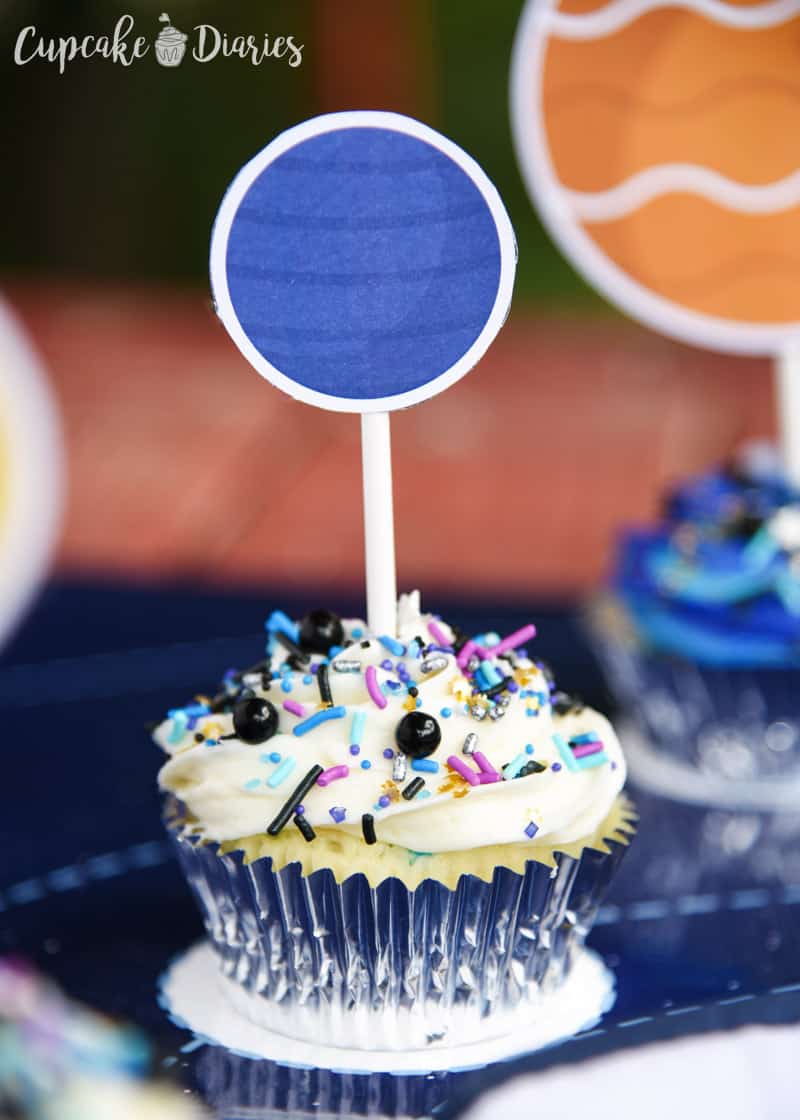 I have three little boys who love the planets and space. My five year old is especially into it these days. He usually comes and tells me random facts about space, like how the sun is actually a star, and Jupiter has the most moons. The kids and I had a blast making these Easy Galaxy Cupcakes to get ready for Space Exploration Day on July 20th! Pillsbury™ is the secret to these fun, galactic cupcakes!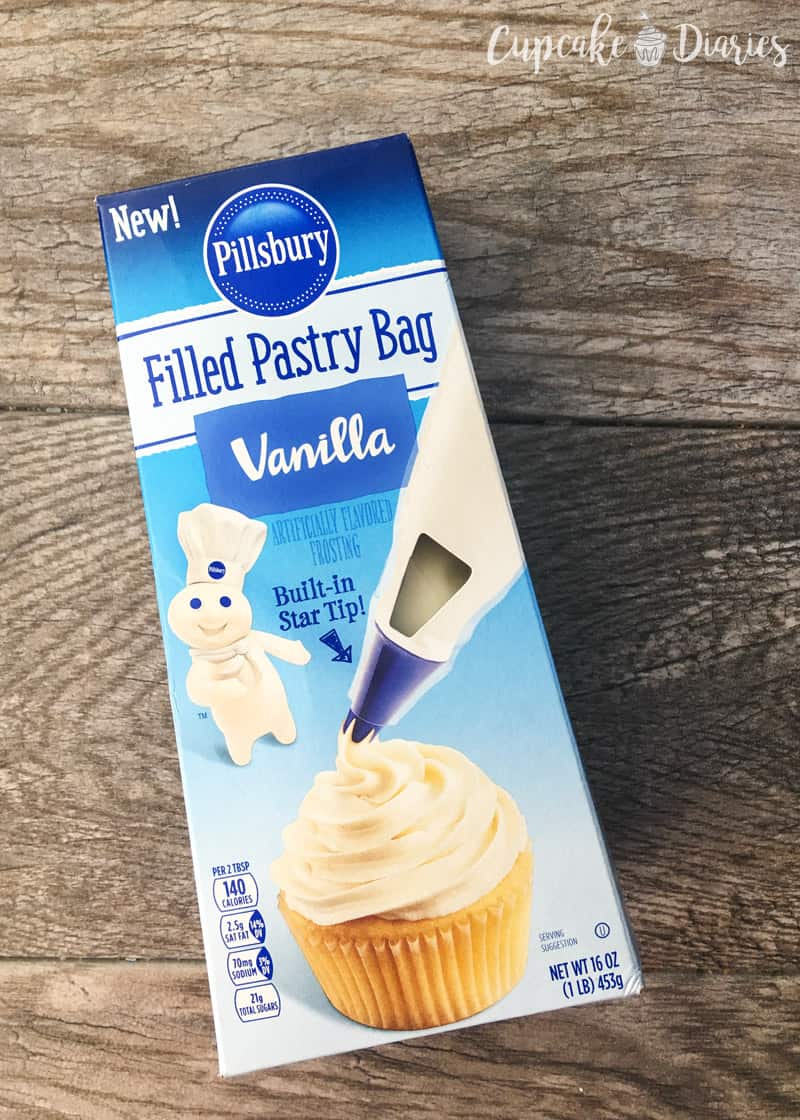 My boys had so much fun making these cupcakes. Especially since they started with a Pillsbury Funfetti® cake mix, their favorite, then we frosted them with the new Pillsbury Filled Pastry Bag! We received this fun solar system mat from Pillsbury along with the adorable planet cupcake toppers, NASA oven mitts, and fun sprinkles. The foil cupcake liners seemed to be the perfect look for these out-of-this-world treats!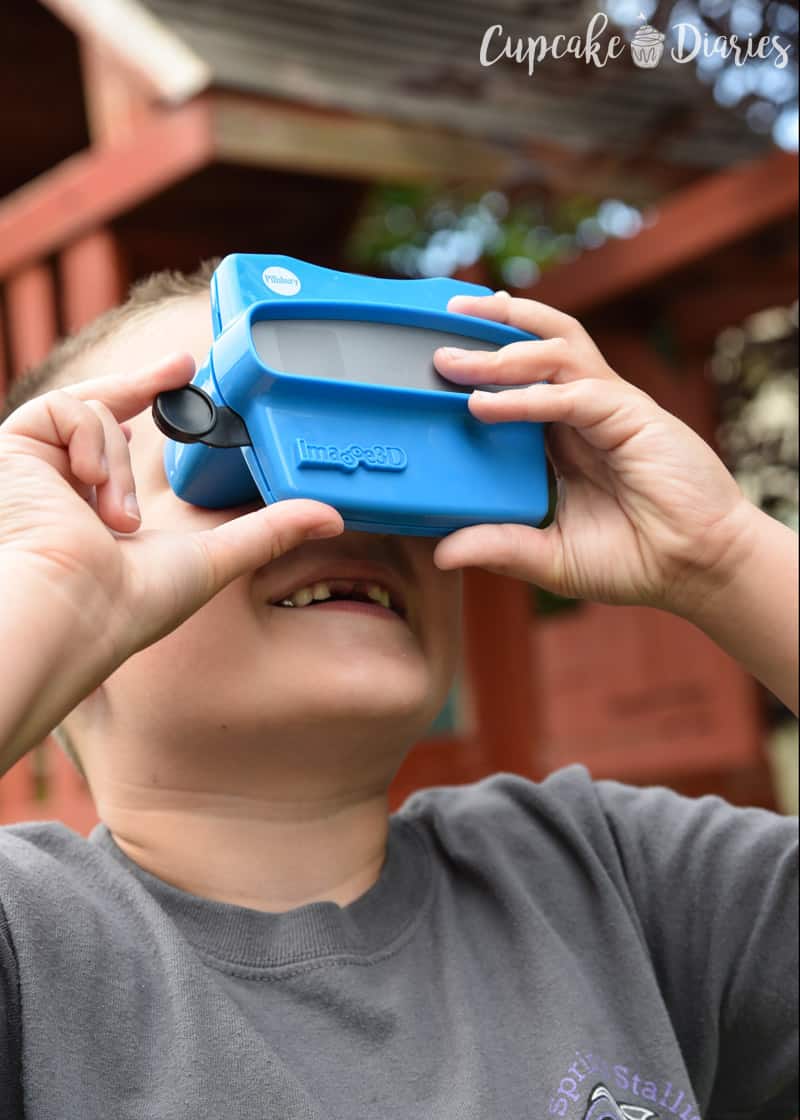 We were also given a fun Pillsbury viewfinder for the kids to enjoy. They thought it was the coolest thing ever. This little thing is put together just like the ones from my childhood. This particular viewfinder includes pictures of our favorite Pillsbury Doughboy, along with some of the fun things we got in our space-themed Pillsbury box.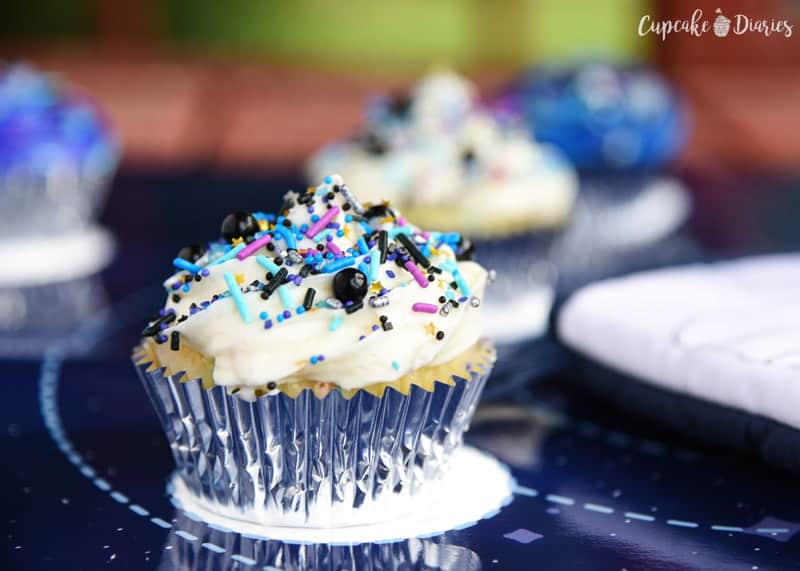 You know me and my thoughts about making cupcakes from scratch. I am all about using Pillsbury baking mixes and frostings instead. And that's exactly what I used to make these cupcakes. You don't have to make a homemade batter and frosting to make an adorable cupcake.
The Pillsbury pre-filled pastry bags makes frosting cupcakes so much easier! Each Pillsbury Filled Pastry Bag comes filled with Vanilla, Chocolate Fudge, or Cream Cheese frosting and even has a built-in star tip. There is very little clean up and your cupcakes are perfectly piped with frosting.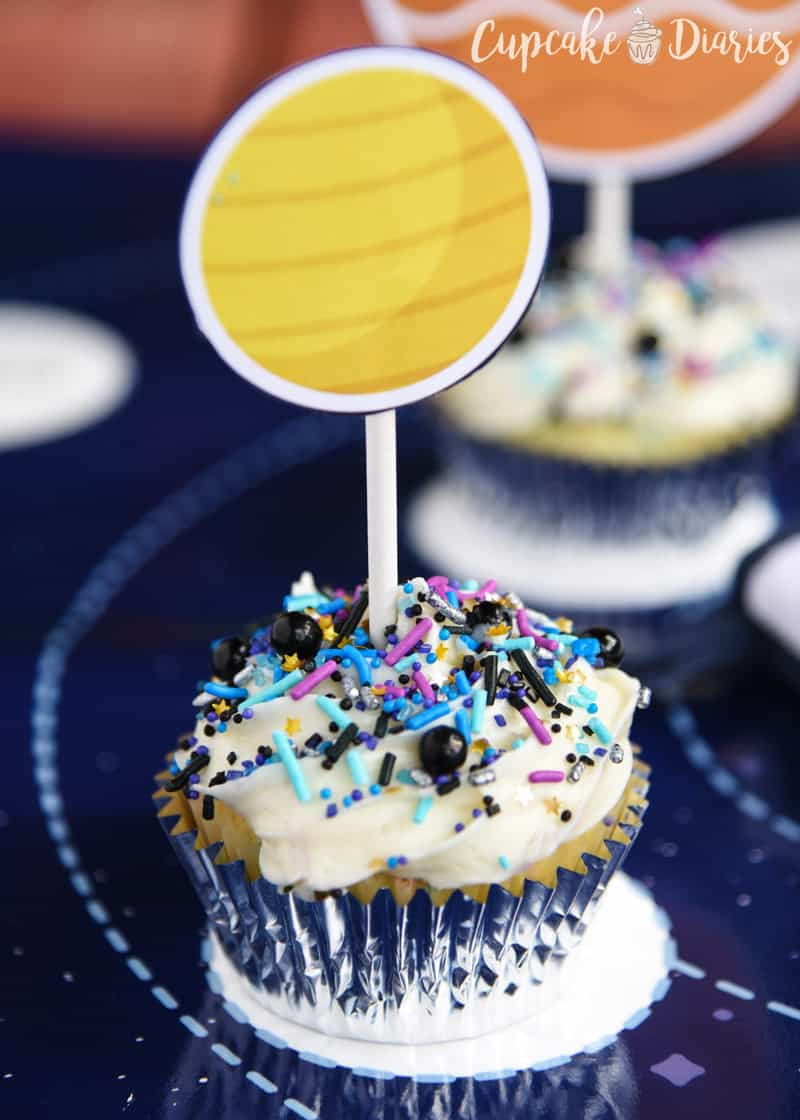 Isn't that awesome? All I had to do was pull the bag out of the box, pull the end off the frosting bag, and pipe just like I would with a frosting bag and separate tip and it looks great!
For a more advanced cupcake, you can create galaxy frosting using regular Pillsbury Creamy Supreme® Vanilla Flavored Frosting and food coloring! You will need half a can of frosting per color. I had five colors (including white) so I used three cans.

Place half a can of frosting in a bowl for each color you want to do. I did purple, pink, and two shades of blue. I left the white in the can but added it to my frosting bag later.
Use food coloring to color each bowl of frosting and mix well. After all that mixing you will want to put the bowls in the fridge for about 10-15 minutes to let the frosting stiffen up a little bit. Affix a frosting bag with a 1M star tip and add globs of frosting (including white) until your frosting is all in the bag. What I love about this part is that you can't mess it up. You're just going to add frosting all over in the bag and then pipe it on each cupcake. Then add sprinkles and you're done!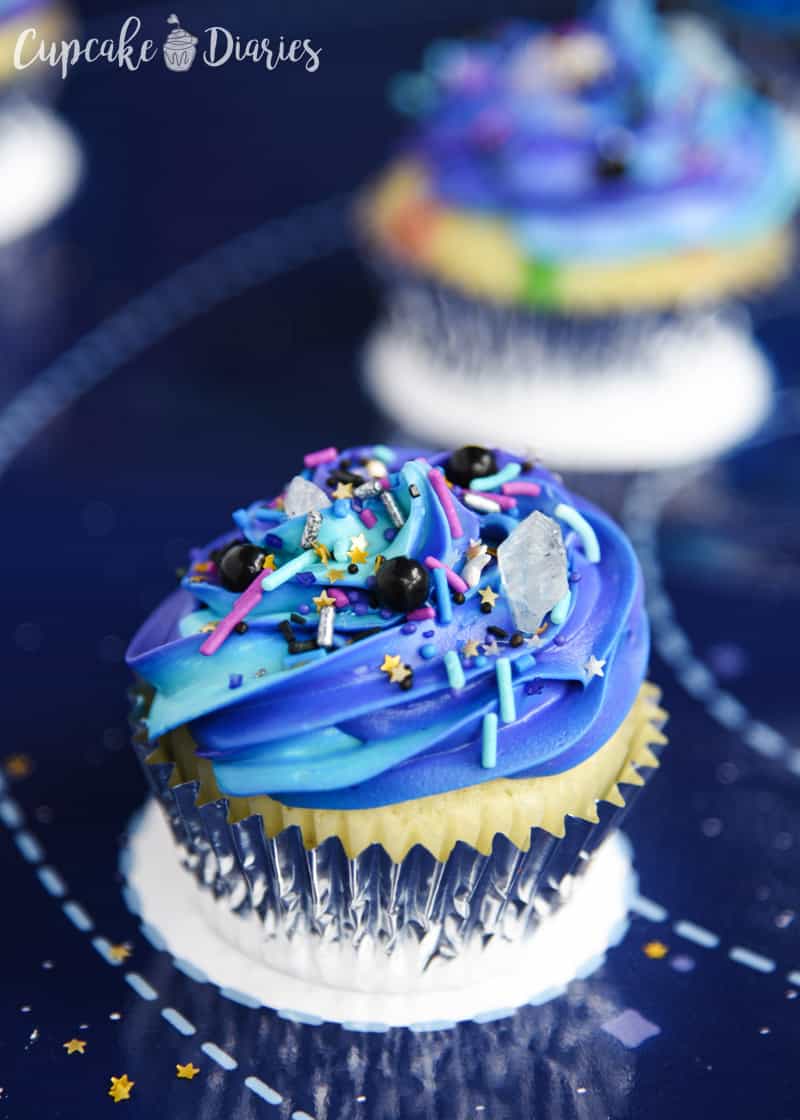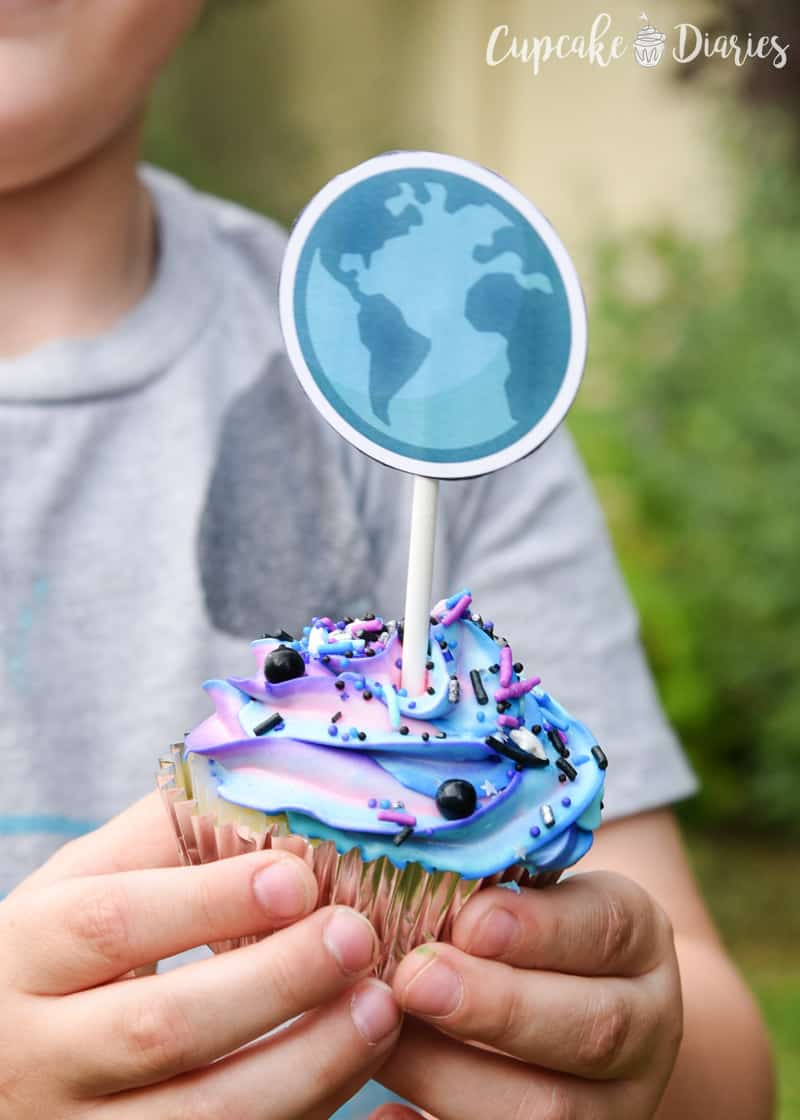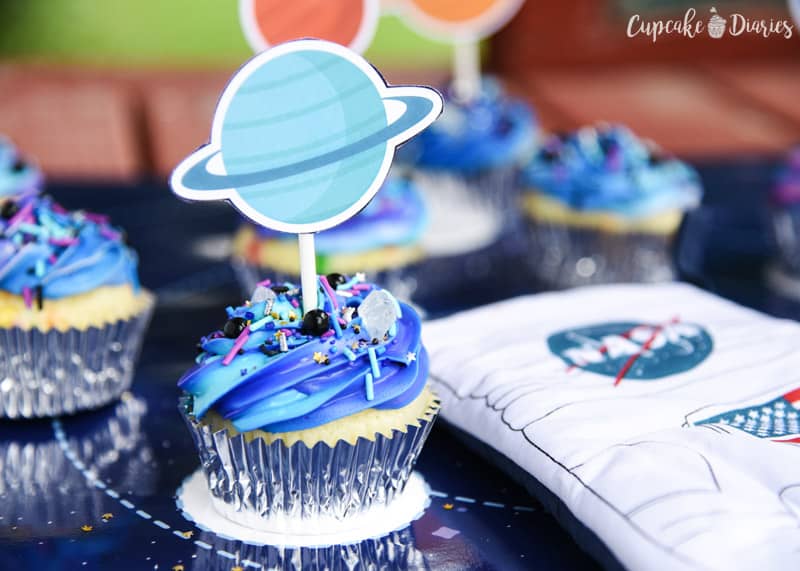 These cupcakes are the perfect treat for Space Exploration Day on July 20, 2017!
Pillsbury and the Doughboy want to inspire you to join Operation Celebration. Sign up HERE for the Pillsbury Operation Celebration newsletter to receive baking ideas!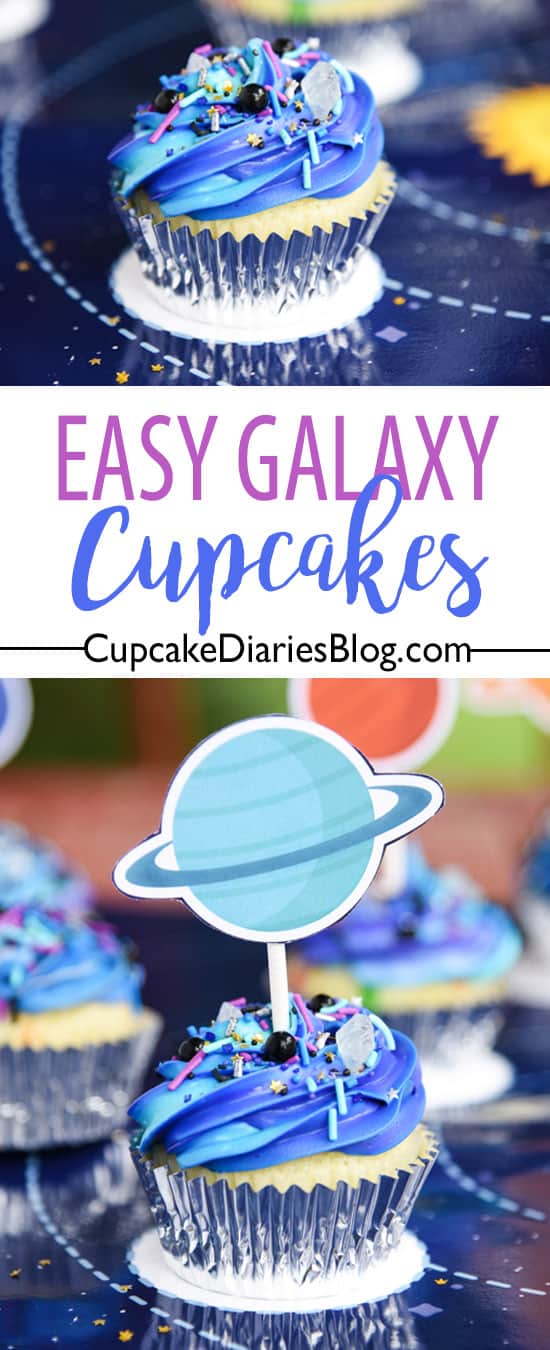 Ad – This is a sponsored conversation written by me on behalf of Pillsbury. The opinions and text are all mine.