The perfect dinner for Valentine's Day is really colorful and really easy! Chicken Penne Alfredo has never been so fun. A great dish for the whole family!
This shop has been compensated by Collective Bias, Inc. and its advertiser. All opinions are mine alone. #ad #StayInWithPasta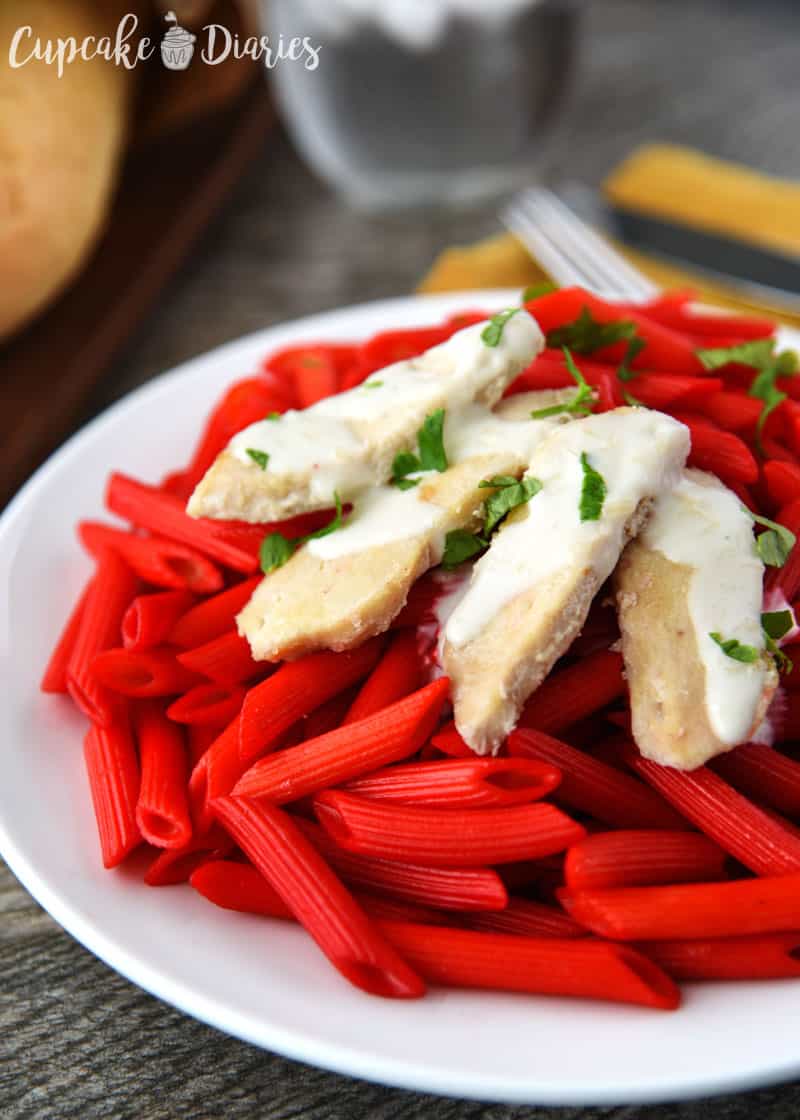 Valentine's Day is next week! If you're looking for something fun to serve the family for dinner that evening, look no further. In about 15 minutes, you can have a popular restaurant favorite with a ton more color! Barilla® Pronto® Penne is the secret to the quick and easy prep. No water boiling required!
My kids love fun food. And for some reason, Valentine's Day is my favorite holiday to make out-of-the-box food for my kids. I think it's that vibrant red color that gets me. My kids got to eat this pasta early when I created the recipe and they were so excited about it. They thought it was the coolest thing ever. This Valentine's Day is all about the fun shapes from Barilla Pasta and what we can do with them!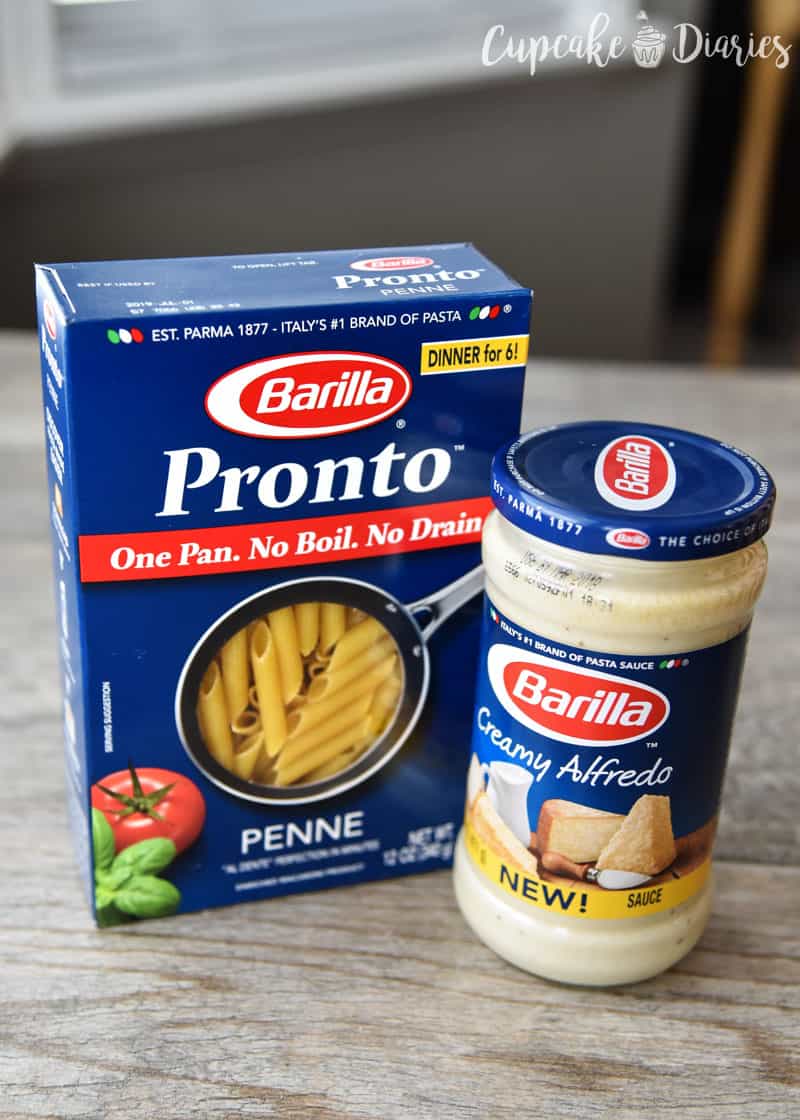 I took the boys to Target and we picked up some chicken along with Barilla Pronto Penne and Barilla Creamy Alfredo sauce. This was my first time using the Pronto pasta and my eyes were opened. In the time it takes to boil water and cook pasta, our entire meal was ready. You don't even have to drain it!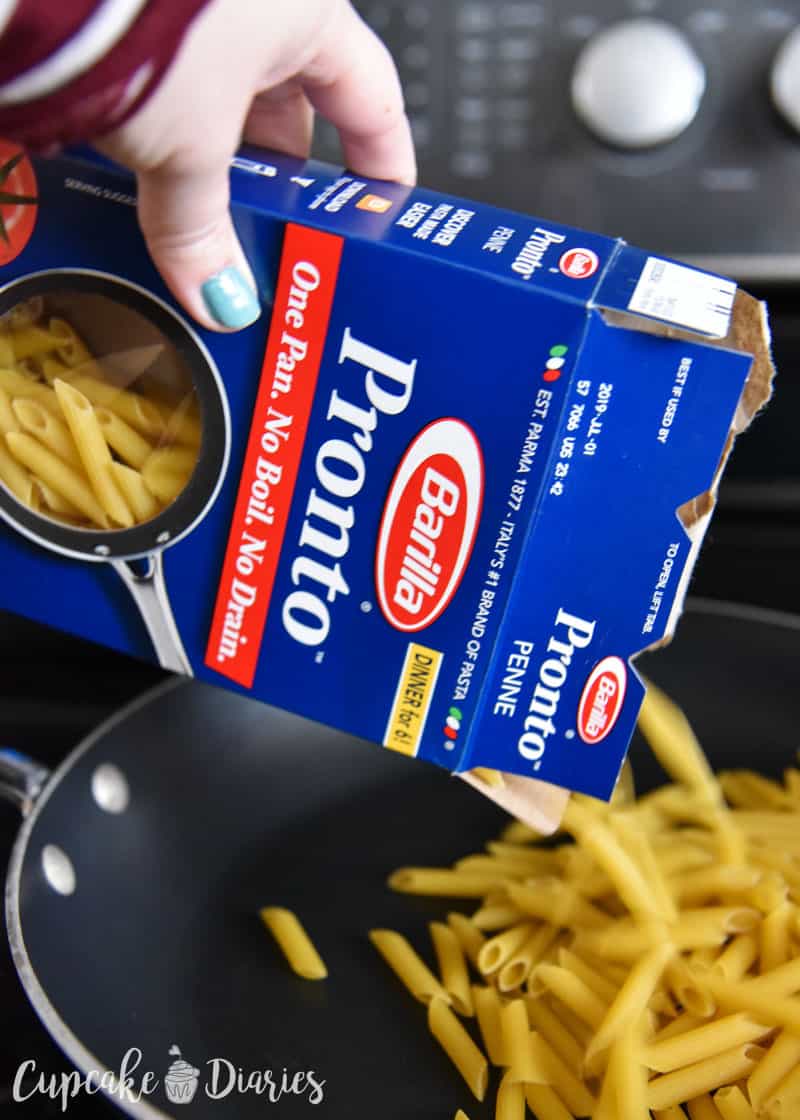 All you have to do is pour the box of pasta into a 12-inch skillet…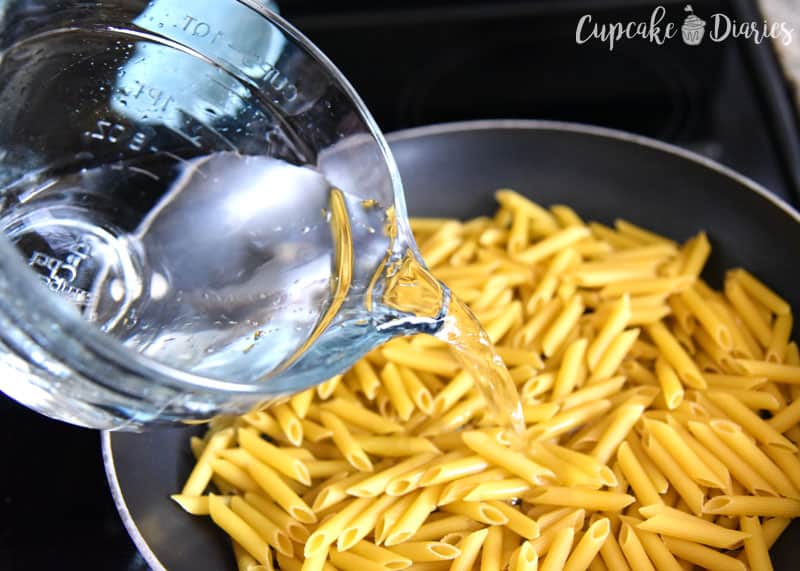 Then pour 3 cups of cold water right over top. Turn the heat to high and set the timer for 10 minutes. And that's it! You'll want to go back and stir it every now and then, but otherwise it just cooks in the pan with no draining necessary.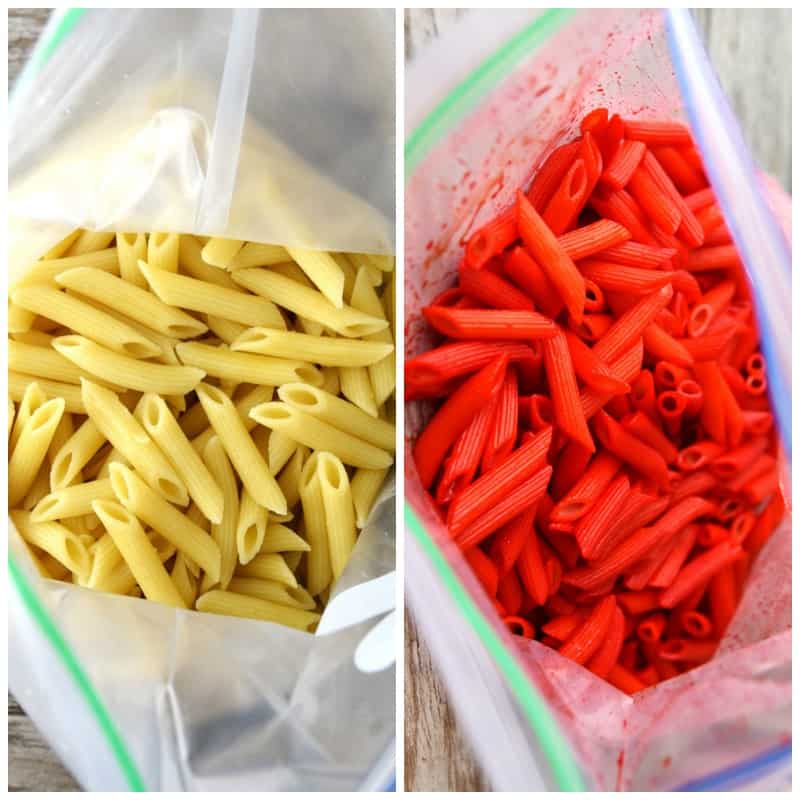 Once the pasta is cooked, place it in a gallon-size ziplock bag and pour a water and food coloring mixture right over top. Zip up the bag and move pasta around until it's completely covered. This takes about 30 seconds to a minute and the noodles are evenly coated. Let the pasta sit in the bag while you use the skillet to cook the chicken. When it's time for dinner, serve up the pasta and top with chicken and Barilla Creamy Alfredo Sauce. It's a fun and easy dinner for Valentine's Day and it only takes 15 minutes!
What's great about this recipe is that any of the Barilla shapes will work. Rotini, rigatoni, or whatever Barilla shape sounds fun!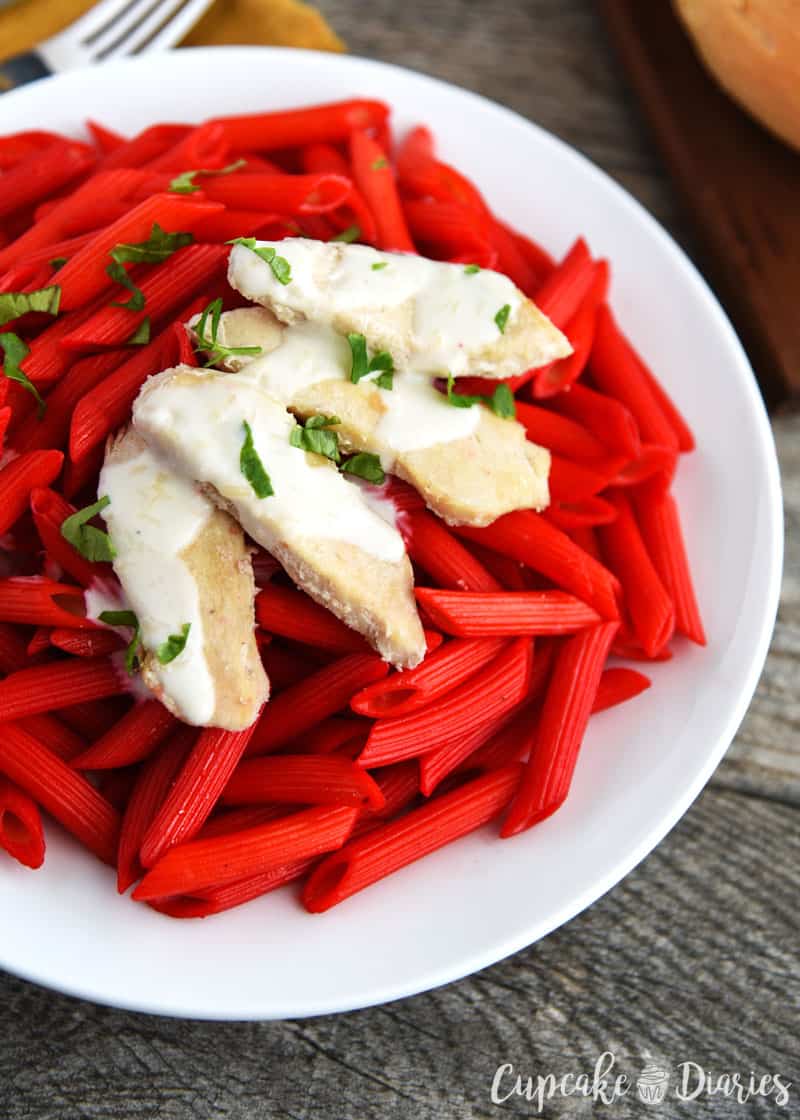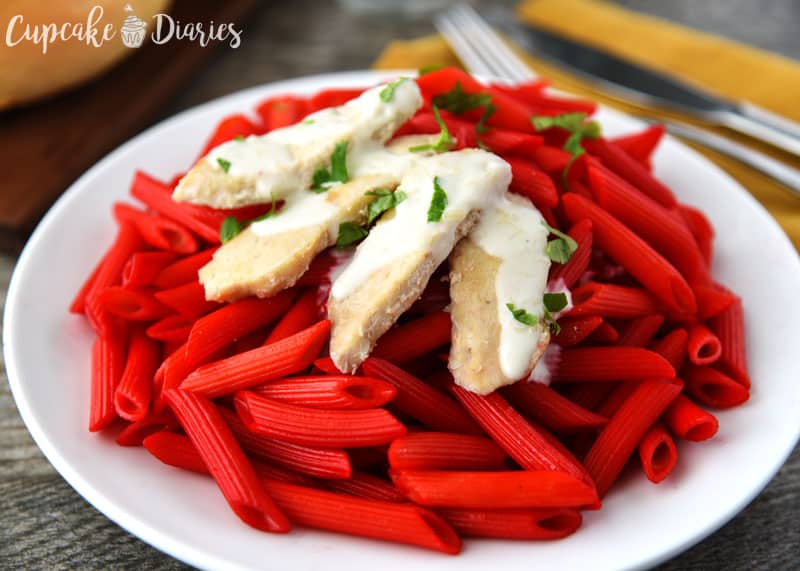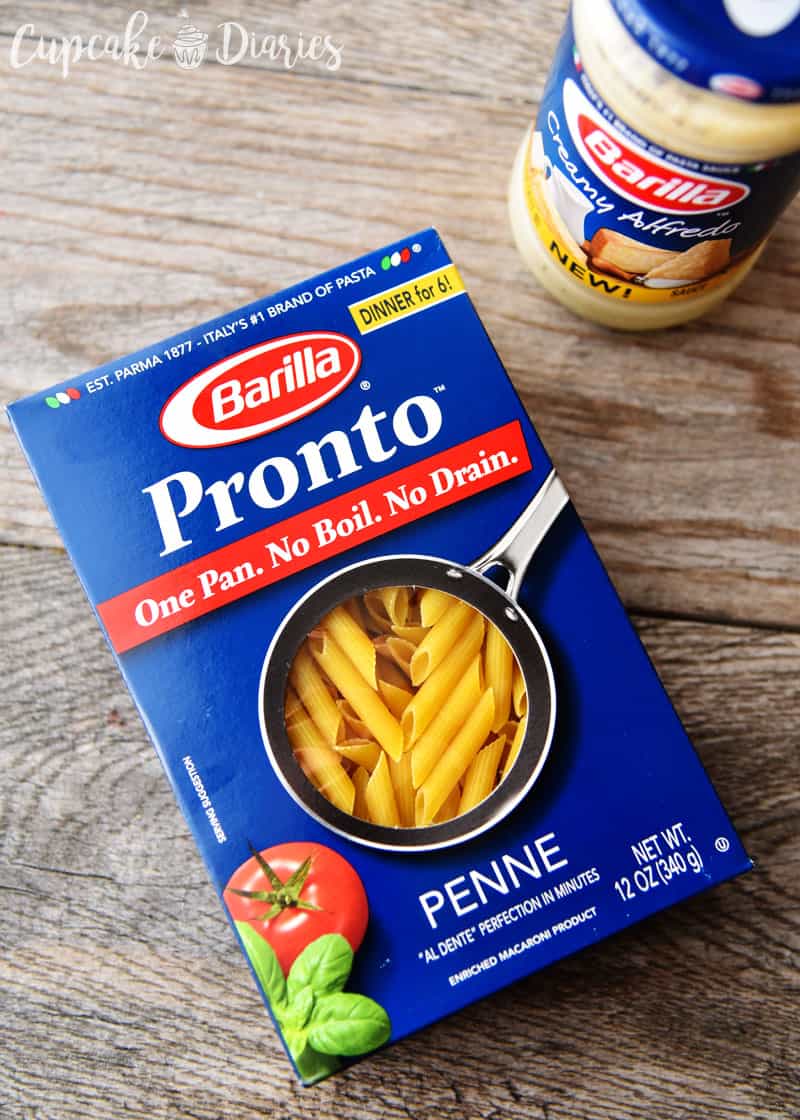 Love me some Barilla Pronto Penne! Snag a Cartwheel Offer just in time for Valentine's Day. Get 5% off Barilla pasta and sauce!
Happy Valentine's Day! Enjoy the pasta!