Fruit is one of those things that I just love to eat at a summer bbq. The Fourth of July is no different! And since the Fourth of July is next week, here are a few ideas to make that fruity side dish into something festive. While there are also a lot of great dessert ideas that involve fruit, these ideas are simply a little something to set next to your burger and chips during your Fourth of July celebrating. Who knew that something so cute could be so easy to put together?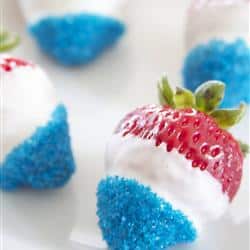 These dipped strawberries are a crowd pleaser! Dip the strawberries halfway into melted white chocolate or almond bark, then immediately dip the end into blue sugar crystals.
Very festive and delicious!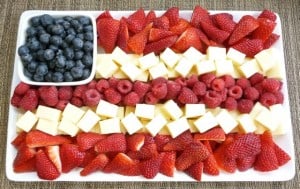 Simply cut fresh strawberries and your favorite white cheese. Then arrange with fresh blueberries and raspberries to look like an American flag (as shown above). Very cute and easy!
I love fruit kabobs! They make eating a fruit salad very simple. Strawberries, bananas, and blueberries work perfectly together to make these patriotic fruit kabobs.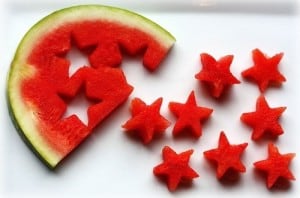 Kids seem to really love watermelon. Why not cut some into stars for the Fourth? All you need is a star-shaped cookie cutter in the size of your choice (and a seedless watermelon, of course) and you're good to go! They'll love having one of these guys sitting on their plates.
Combine those cute star shapes with some blueberries and strawberries for a fun and patriotic fruit salad. Wow, I want some watermelon right now!