This weekend Tyson and I were talking about the overload of treats I've been making. It's been a little excessive, I must admit. What can I say? I love chocolate! Then we started talking about a yummy Valentine's Day drink we could make this weekend. I did some searching and found a few ideas we could try that look ridiculously delicious: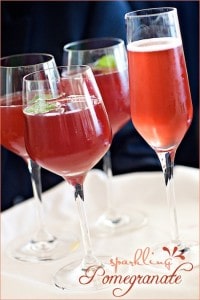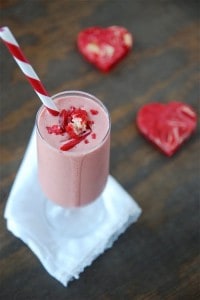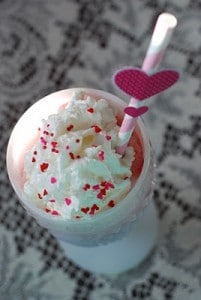 And after all was said and done we ended up making…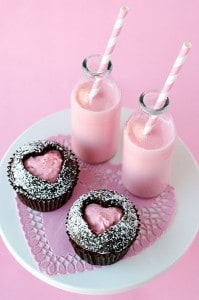 …strawberry milk. And it was delicious!
Can't beat the deliciousness that is strawberry milk.
We plan on making one of the other drinks on Tuesday night to help celebrate Valentine's Day!
(Aren't those heart cupcakes just the cutest? They're super easy to make, too! Learn how to make them over at
Glorious Treats
.)
_______________________________
And now…
it's giveaway time! It's been way too long since I've done a giveaway.
If you're a digital scrapbooker or a classic scrapbooker looking to go digital, this is for you!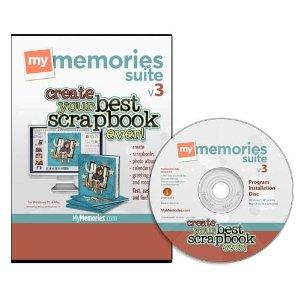 MyMemories Suite
is a digital scrapbooking software that helps you make fun and creative projects to keep and share all of those memories. This software is easy to use and will help you build your scrapbook with ease using one of the installed templates or by building something of your own. The program comes with all kinds of paper and embellishments, but you can also download your own kits at the
My Memories Store
. And the software works on PC or Mac so no worries there!
With Valentine's Day coming up you can find the perfect Valentine's Day kit for your scrapbook. Here are a couple of super cute kit examples:
Recently I became the owner of my very own MyMemories Digital Scrapbooking Suite software and I just LOVE it. I had to share the love by giving one away. There are so many ways to save your memories with this software you'll wonder how you've been living without it. With this software you're on your way to building a fabulously cute scrapbook!
Win It: One lucky Cupcake Diaries reader will win the MyMemories Suite Digital Scrapbooking Software, valued at $40. Giveaway ends Thursday night, February 16th, at midnight (MST). A winner will be chosen via random.org and announced Friday, February 17th.