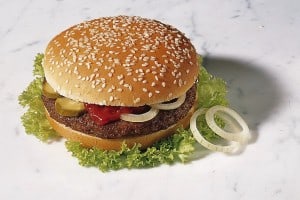 I love a good burger. I love going out to eat at a good burger place and enjoying a big, juicy cheeseburger. My top 3 favorite burgers are from Bobby's Burger Palace, Hard Rock Cafe, and Five Guys. Mmmmm!
Tyson and I like to make hamburgers at home every now and then. We have a grill, but we haven't been able to use it since we've moved. It stayed in Idaho until we can find a house here in Utah. In the meantime we cook our hamburgers on the stove top. It works great, but we've never been able to make a really yummy hamburger at home. This recipe today could really be the best burger recipe ever! It is the best homemade burger I've ever made. The burger stays nice and moist because of the sauce and cheese mixed right in with the meat. And the secret sauce (which happens to be a copycat version of the In & Out secret sauce) is the icing on the cake. Or in this case, the sauce on the bun. It's delicious!!
The Best Burger Recipe Ever
Little Miss Momma

Burger Ingredients
1 lb. ground beef (85/15 – A little bit of fat makes the burger nice and juicy!)
sesame seed or your favorite hamburger buns
1/2 c. grated Monterrey jack cheese
1/4 c. bbq sauce
season salt to taste
cracked black pepper
onion powder
Secret Sauce Ingredients
3/4 c. mayo
1/4 c. ketchup
1/4 c. relish
2 Tbsp. worcestershire
seasoned salt
Directions
Combine the ground beef, grated cheese, BBQ sauce, and seasonings. Shape the patties to be about 1 inch thick and the size of your liking. Remember that the patties will shrink when they're cooked so make them big enough. Then push a 1/2-inch indent in the center of each patty. This prevents the patty from doming in the middle.
Heat up a saute pan, griddle, or a stove top grill. Let it get nice and hot, then reduce the heat to medium and apply a thin layer of butter to the pan or grill. .
Place the patties indent side up on the pan or grill and allow that side of the patty to cook thoroughly for about 4-6 minutes, making sure it doesn't burn. Flip the burgers over and cook until done. We like our burgers medium well (with a tiny bit of pink) but you can cook yours however you desire.
For the sauce, combine all ingredients and whisk until well mixed. Taste and adjust the ingredients to what you like.
If desired, butter and toast the buns on a skillet. Assemble the burgers and top with your favorite toppings. I like lettuce, tomato, and pickle! Enjoy!!