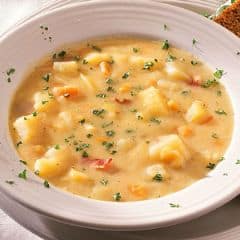 It's the first week of the new year, which means exercise and dieting are in full swing for people everywhere. I find myself jealous of the guy on "The Biggest Loser" the other night who lost 22 pounds in a week. Wouldn't that be fabulous? But since we live in the real world and the rest of us aren't on the Biggest Loser ranch, we're left to fend for ourselves and work our hind ends off on our own. Thank goodness for the other help we have out there!
This recipe is a light recipe that many Weight Watchers members use in their point system. At 4 points per serving and only 151 calories (say what?), this delicious potato soup is one that you don't have to feel guilty about eating. I made this for my family for dinner and my husband liked it more than the other potato soup recipe I've made that's full of heavy cream and other additives. There really is hope out there! And to top things off, the crock pot does all the work for you. Oh happy day!

Slow Cooker Ham and Potato Soup
adapted from Weight Watchers Points Plus Recipes
makes 8-1 cup servings
7 c. diced potatoes (about 4 medium – I used 2 large)
1 c. diced onion (1 medium – I only used half of it and only used it for flavor. I'll explain that later!)
1 large carrot, chopped
2 c. ham, diced OR 8 slices of turkey bacon diced up and cooked
5 c. hot water
5 chicken bullion cubes OR 1 extra large Knorr chicken bullion cubes

(Original recipe calls for 4 cubes but I liked the flavor I got by adding one more.)

1/2 c. milk

(Original recipe calls for 1 cup but I didn't want it that liquidy.)

1/2 c. sour cream
salt and pepper to taste
Begin by making your broth for the soup. Dissolve the chicken bullion cubes into five cups of boiling water. I put the water in an 8-cup pyrex measuring cup and let it go in the microwave for about 4 minutes. Then just drop the cubes in and let them dissolve. Stir them up when they're dissolved.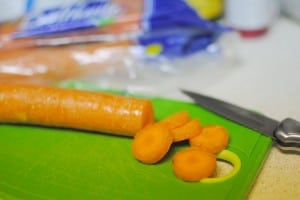 …and the carrots.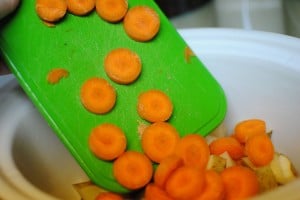 Toss the potatoes and carrots into the crock pot.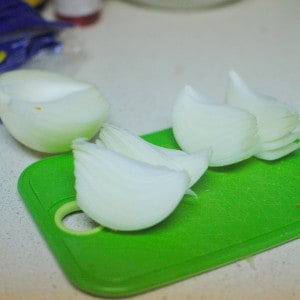 Then chop up your onion. This recipe calls for the onions to be in chunks and to be part of the soup for eating. But here's the deal with my husband and I and chunks of white onion (we're more of green onion people): We don't do well with big chunks of onion but I still wanted to give the soup some of that good flavor. So I used half the onion and cut it in chunks.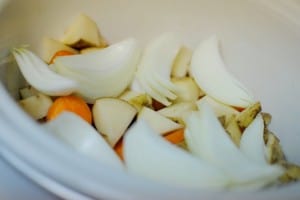 I put them right on top of the potatoes and carrots to cook with them. When the soup was done I took all the onions out (which is pretty easy when they're in big chunks) and great flavor was added to the soup during the cooking process. We had that awesome flavor we wanted without having to eat a piece of white onion. Works pretty well if your family is anti-white onion chunks!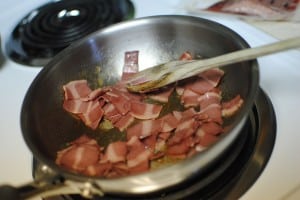 This recipe is perfect for those of you with leftover Christmas ham. I, however, didn't make a ham for Christmas and I didn't really want to buy one just for this. So I bought Jennie-O turkey bacon (half the fat of regular bacon and less sodium). We really like bacon in our potato soup anyway so that worked out well.
I cut up 8 slices of bacon.
If you decide to use bacon, you can be the judge of how much you want in your soup.
Cook the bacon up…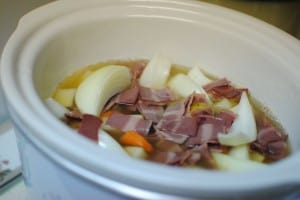 …then throw it in the crock pot on top of everything else. Then pour the prepared chicken broth over the veggies and bacon. Set it on
low and let it cook for 5 to 5 1/2 hours
. The original recipe says 7 hours, but if I had let it go that long the potatoes would have been a mushy mess. They were just right at 5 hours. If you like your potato chunks to be huge chunks then let it go longer until they are cooked through.
After the soup is done cooking, take out your onion chunks if you don't want them in there and then add the milk and sour cream. Stir together and let it cook for another 10 minutes. Taste it and add salt and pepper to your liking. Then you're ready to grub!
Linking up at: