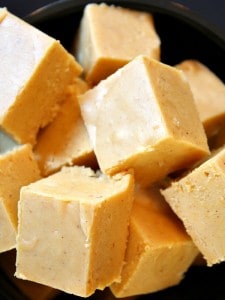 I love fudge!! Fudge is one of those treats that has holiday season written all over it. And every time I eat it I am reminded of the movie How the Grinch Store Christmas with Jim Carrey and the "Fudge Dudge" fudge eating contest he has to do ha ha. I love it!! It's amazing how many different delicious and creamy fudge recipes there are out there. Every now and then fudge gets made for a Thanksgiving treat at our house. But now that I have this recipe for Pumpkin Fudge, I think fudge will be showing up a little more often for turkey day! If you like pumpkin and you like fudge, you're going to love this.
Pumpkin Fudge
recipe and image via Recipe Girl
3 c. granulated sugar
3/4 c. salted butter, melted
2/3 c. evaporated milk
1/2 c. canned pumpkin puree (unsweetened)
2 Tbsp. light corn syrup
1 tsp. pumpkin pie spice
1 (12 oz) bag white chocolate chips
1 (7 oz) jar marshmallow creme
1 tsp vanilla extract
1 c. chopped pecans, toasted (optional)
Directions
Line a 9-inch square pan with aluminum foil. Spray with nonstick spray.
Stir together the sugar, butter, evaporated milk, pumpkin puree, corn syrup, and pumpkin pie spice in a saucepan over medium-high heat and cook, stirring constantly, until a candy thermometer registers 234 degrees, or about 12 minutes.
Once it reaches that temperature, remove from the heat and quickly stir in the white chocolate chips, marshmallow creme, pecans, and vanilla. Stir till well blended.
Pour into the prepared 9-inch pan. Let it stand for 2 hours or until completely cool. Cut the fudge into squares.