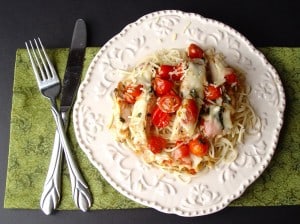 Summer is pretty much over, let's face it. Is it just me or did this summer cruise right on by? I am happy to say that around here we're still having nice summer weather, which means we can keep our grill out a little longer. We recently used it for Grilled Bruschetta Chicken and I have to say…this dish is SOOOO good! It is one of my favorite things I've made for dinner yet. I could eat it everyday if I could. So while your grill is still out, make this. You're going to love it! Big thanks to Jamie for this picture of the finished product! This picture is just too pretty!
(Don't have a grill? No worries! You can cook the chicken in a saute pan, bake it, or you can use a stove top grill. I need to get me one of those, they're awesome.)
Before I get to the recipe, I just want to say a very late "happy birthday" to this sweet lady: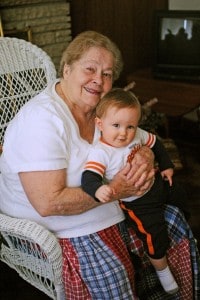 My wonderful grandma (my dad's mom) turned 81 last week and with all the hustle of the big blogiversary I didn't even wish her a happy birthday. She is one of the kindest and sweetest people you'll ever meet. Totally serious about this.
My little family is moving in less than two weeks and we will be closer to her. I am so excited to be closer to Grandma!
Grandma, if you're reading this recipe today I just want you to know how much I love you and that I hope you had a fabulous birthday! Can't wait to see you more often!
Grilled Bruschetta Chicken
Jamie Cooks it Up!
makes 4-5 servings
4-5 boneless skinless chicken breasts (Not big ones, just the medium size or even small ones will work great.)
1 c. Italian dressing (I love the Kraft Italian dressing!)
1 pint of grape tomatoes (I haven't been able to find grape tomatoes for months so I used two large tomatoes.)
3 cloves of garlic (You can use minced instead of you don't like to use fresh.

You'll need 1/8 tsp. of minced garlic for every clove.

)
1 Tbsp. olive oil
2 tsp. balsamic vinegar (Optional – We are not balsamic fans so we used an extra bit of olive oil instead. My besty Ashlee is going to love this recipe because she loves balsamic vinegar!)
salt and pepper
1 1/2 Tbsp. fresh basil
2 c. mozzarella cheese, grated
1/2 c. Parmesan cheese, grated
8 oz. spaghetti noodles
2 Tbsp butter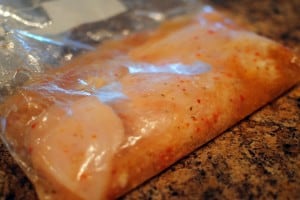 Put the chicken breasts in a gallon size Ziploc bag with 1 c. Italian dressing. Seal the bag and put it in the fridge for at least 3 hours and up to 24 hours to marinade.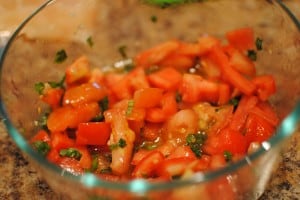 Before the chicken goes on the grill, make the bruschetta:
Chop the tomatoes and put them in a medium-sized bowl.
Peel the garlic and chop it into rough pieces. Throw that in with the tomatoes.
Chop up the basil and throw it in with the tomatoes and garlic.
Pour in the balsamic vinegar then drizzle the olive oil over top of that.
Sprinkle with some salt and pepper then stir it up and taste it. It's delicious, you'll want to eat it by itself! If your tomatoes are lacking in sweetness just add a little bit of sugar.
After the bruschetta is made, grate the cheeses and get your water going to cook the spaghetti. Throw the spaghetti in the water to cook then go out to the grill and cook the chicken over medium high heat.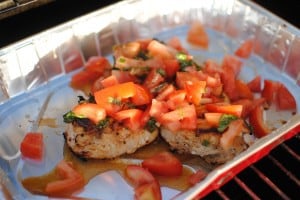 When the chicken is cooked through, turn the temperature of the grill down to low. Place a disposable 9×13 pan right on the grill and put your chicken into it. Cover the chicken with the bruschetta.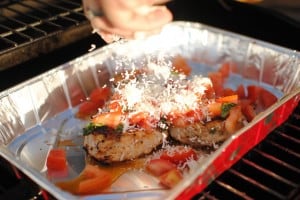 Sprinkle the chicken and bruschetta with mozzarella cheese then cover the grill.
Let it sit there for about 5 more minutes or until the cheese is melted and the sauce is bubbly. Toss the cooked pasta with butter and put it on a serving platter or dish or portioned out onto plates. Cover the pasta with the chicken and bruschetta. Make sure you get all the juices as well! Sprinkle with Parmesan and serve immediately.
There is still time to enter last week's giveaways! The winners will be announced on Wednesday.