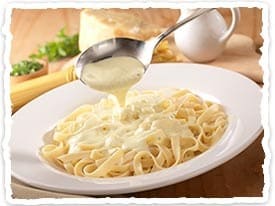 Yes, my friends, this is THE recipe. I didn't even have to share my copycat version of this recipe because Olive Garden has so graciously given us their recipe on their website. Remember the first recipe ever posted on Cupcake Diaries, Bruschetta al Pomodoro? Also from Olive Garden. Super cool of them to do that for all of us who love that place so much! Whenever I go to Olive Garden I get the Chicken Fettuccine Alfredo-my fave! And now we all have the sauce recipe so we can enjoy it in the comfort of our own homes, fresh and homemade. Thanks again, Olive Garden!
Collette, my roommate freshman year, is going to love this recipe because it only takes 10 minutes to make. The one we used to make in college took us about 45 minutes!
Ingredients (for 4 servings)
1 1/2 c. milk
1 1/2 c. heavy cream
1/2 c. Parmesan cheese, grated
1/2 c. Romano cheese, grated (Whenever I've used a recipe that calls for Romano cheese and I can't find any in the store, I reach for the Italian blend. To me it tastes super close to the same. I can say that after working at an Italian restaurant for almost 10 years!)
6 jumbo egg yolks
Salt and black pepper to taste
Directions
Heat milk and cream in a heavy bottom saucepan until it begins to simmer. Turn off heat. Slowly whip in cheese, then remove from heat.
Place egg yolks in a separate bowl and slowly whip in a portion of the hot milk and cream mixture. Slowly add egg yolk mixture back into the remaining cream mixture. (This technique is called "tempering". It slowly increases the temperature of the yolk so you don't shock the eggs or even cook them.) Place back on very low heat and continually stir until simmering. Take sauce off heat so it thickens.
Season to taste with salt and black pepper. Serve over your favorite pasta.